Price: $0.99   Score: 10/10   Category: Games
The third installment of the Angry Birds franchise arrived with talk of a new film called Rio but other than a few added twists and an upgrade in graphics, this is the same game millions have flocked to since late 2009.
Rather than waste your time with yet another explanation of Rovio's bird launching formula, let's jump right into the factors that separate Angry Birds Rio from its predecessors.
Although Angry Birds Rio is set up similarly to the others, the first difference that's apparent in this release is the upgrade in graphics. Rio manages an added sense of depth with parallax scrolling and then holds your attention with new detailed scenes and a new twist in objective.
Instead of launching birds at the famous villainous green pig, your task for the first 30 levels in the 60 level set is to free fellow birds from their cages by cannonballing toward the other end of the screen. After that it's business as usual in the game of destruction, only this time instead of taking on the pigs, marmosets become the enemy.
On the whole it feels like the initial levels in Rio are easier than usual, but before long the challenge returns in full fury. In some cases it seems nearly impossible to earn three stars, but Birds' fanatics will probably relish in the challenge.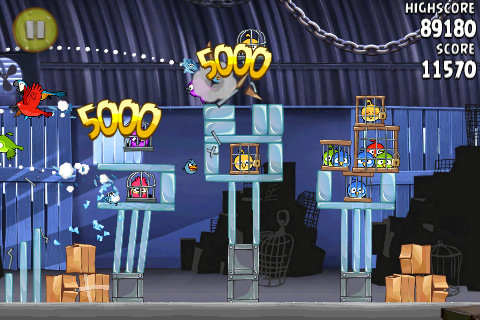 The addition of a boss fight at the end of level 60 also presents a slight change. The finale sets your firing squad up against a big white bird that moves its way up and down the screen like a minigolf obstacle, but beyond that I'm keeping my mouth sealed.
Loyal Angry Birds fans will appreciate the addition of a few new characters, but the coolest of them (namely the bird that rockets across the screen in the boss fight) isn't released until later in the game. We can only hope that these characters show up more when the new level sets are released in May, July, October and November.
On the whole Rio feels like a solid upgrade but Rovio hasn't done anything to fix what isn't broken. For $0.99 cents you can't lose, but don't expect anything anymore ground breaking than usual.
Bottom Line: Although Angry Birds Rio offers a few new twists and upgrades, the release is evolutionary as opposed to revolutionary. Perfect for those seeking more levels but don't expect an entirely new experience.