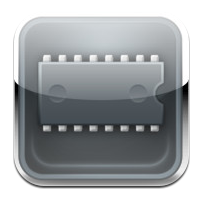 [app id="591453716″]
Lirum Device Info is an iPhone app developed by Rogerio Hirooka/Lirium Labs. If you want to monitor the system of your iOS device in real time, this lovely app is here to help.
Lirum Device Info lets you see how your memory is being allocated, and also lets you check on your battery life. In addition, this app offers hardware tests for your flashlight and vibration functions. There are also hundreds of operating specs available for your reference, making this app a great reference tool for anyone who needs to look up specifications constantly.
When Lirum Device Info launches, the General screen will outline your device's storage, along with your current ratio of free to used space and model number. From the main Menu tab, you can check your device's display, CPU, connectivity, camera, battery, and hardware data.
One feature that is great is the Compare screen, where you can compare your device's capabilities against an older or newer device. This is great if you're trying to decide if upgrading to a new device is really worth it, or if you just want to see how far the iPhone has come since its first iteration.
Despite the fact that this app is practically brand new, there's already been an update that offers some big changes and improvements. The latest version of the app is Version 1.1, which includes changes like a screen for storage details, LCD color and contrast test screens, and tons of new data fields to help you get the fullest possible picture of your device's status.
If you're a total tech junkie and love crunching numbers and memorizing data, this is the ultimate app for the tech obsessive. In short, Lirum Device Info is well worth shelling out a couple of clams for.
Lirum Device Info is compatible with iPhone 3GS, iPhone 4, iPhone 4S, iPhone 5, iPod touch (3rd generation), iPod touch (4th generation), iPod touch (5th generation) and iPad. Requires iOS 6.0 or later. This app is optimized for iPhone 5.