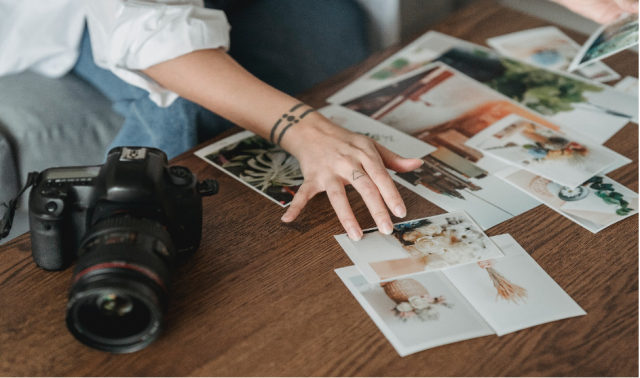 One of the most important things for real estate business owners and property owners is to showcase property in the best possible manner. Therefore, photography plays a crucial role in real estate because it is often the first point of contact between a buyer and potential tenants and the realtors or property owners. Prospective buyers will base their decisions about a property listed for sale or rent on the photos provided. The listings that sell first are those with captivating twilights, an easy 3D tour, and video footage that shows a property from every perspective. However, choosing the best photographer to capture your home can be daunting because a subpar photographer would ruin even the best vistas.
Don't worry! Here are some tips to assist you in selecting a photographer that can truly capture the character of your property.
1. Take Help from other Realtors
As a realtor, asking your friends and other people in your network is the fastest and the best approach to finding a suitable photographer because realtors have their own contacts, and professional photographers develop a reputation for high-quality work over time. If you are a property owner, ask your realtor for advice on reputable photographers and inquire with your stager about the photographers they use to document their work.
2. Check Photographer's Portfolio
Check through their portfolio to determine the caliber of their work. Make sure they have experience in real estate photography because only a professional experienced in real estate photography, like photo property, would give you your desired results. Check their photography style; for instance, Do they emphasize wide or close-up shots? Do they use flash or natural light? You should pick a photographer whose aesthetic you appreciate and who will fit your requirements.
3. Experience
Experience is a term that isn't always used to describe the length of time a photographer has been working with a camera. Alternatively, find out how long the photographer has taken pictures of different properties. Photographers with experience in real estate will have a distinctive perspective on viewing and photographing the home from the best angles.
4. Check Client Reviews
Before finalizing a photographer for your listing, check their clients' reviews. The best photographer will have many positive reviews on social media platforms and their official pages. Additionally, recommendations from previous clientele are the best way to get to know a photographer's work and personality in a little more detail before hiring them. When you meet with a potential candidate, ask them for recommendations from previous clients and whether they're comfortable with you contacting them. This way, you can get honest feedback on their quality of work, work ethic, and professional demeanor.
5. Consider their Equipment
Equipment plays a crucial role in photography as it affects the quality and outcome of the images. A professional photographer should have professional-grade equipment, including high-quality cameras, lighting equipment, and lenses. High-end cameras and lenses can capture more detail, produce better colors, and allow for better control of depth of field and other settings.
6. Way of Communication
Communication is key to building trust between a photographer and their clients. Good communication allows the photographer to set clear expectations with their clients. It includes the project's scope, pricing, delivery timelines, and more. When issues arise, good communication can help resolve them quickly and efficiently.
7. Fast Turnaround Times
A photographer has a better chance of getting the client's business and establishing oneself as a dependable and competent service provider if they can produce high-quality photographs within the given time frame. A professional photographer should offer a day or two turnarounds on all media services. Ensure the photographer you hire has a team of editors to handle the editing process. It ensures that the photographer can deliver the photos on time.
8. Quality Assurance
A reputable photographer should guarantee quality service. It is a good idea to look for photographers who offer a money-back guarantee to clients if they are not satisfied with the results. It demonstrates their commitment to delivering the greatest outcomes and their confidence in the caliber of their work.
9. Consider the Terms and Conditions of their Services
Four main things which fall under this category include image ownership, cancellation procedure, payment method, and delivery specifications.
Image Ownership
When you hire a photographer to take pictures of a property you're listing for sale or rent, you pay them for the service, including a license to use the photos, but the photographer keeps ownership of the images. If you want full ownership of the photos and not simply the right to use them, you should opt for a work-for-hire arrangement.
Cancellation Procedure
What will happen if you cancel the photoshoot? Can you reschedule? If so, does rebooking cost money, and does cancellation result in the loss of your deposit? All of these conditions must be explicit and in writing.
Payment Method
How and when do you have to pay? Any advance payments done must also be noted as proof.
Delivery Specifications
The agreed-upon photo resolution and format specifications must be stated clearly in the agreements. Additionally, they should clarify how and when you will receive the photos.
10. Pricing
The final step in selecting the ideal real estate photographer is evaluating the costs and package options. You can make an informed choice and ensure you're getting the greatest value for your money by knowing what is included in each plan and the additional expenses. Photographers offer various packages depending on the property's size and the services they give. Understanding what is included in each bundle can help you decide if it meets your needs. A predetermined amount of pictures as well as virtual or video tours of various areas of the property, may be included in packages. Some photography services come with additional costs. These costs might include photo-editing services, travel expenses for the photographer, or specialized gear required to capture different property features. Before choosing a photographer, ensure you know any potential additional costs and whether they are within your budget.
Conclusion
A lot of investigation and assessment is needed to choose the best photographer for listing a property for sale or rent. Making the most optimum choice requires careful consideration of factors, including the distinctive selling characteristics of your property and the photographer's portfolio, approach, and style. You may make well-informed choices if you comprehend photography's role in boosting real estate sales and comparing prices and packages. Your house will sell more quickly, and you'll be able to professionally highlight its distinctive features if you find the perfect photographer.