Are you looking for a way to remove the blunders that you make while writing?
For that, one has to be a master of the language that he is writing. Still, there are chances that you are going to make some minor mistakes. Proofreading it might help you out, but when you are in a rush it is going to cost a huge amount of time.
That is why most of the writers and bloggers today depend on online grammar checker tools. These tools are free to use and can help you in a number of different ways. There are a large number of grammar checkers that are working.
Here are 5 best grammar checkers that helps you in making your articles or blogs free of errors.
1 GRAMMARLOOKUP.COM
The first punctuation checker in the list is no doubt grammarlookup. The thing that makes it so popular among bloggers is it's simple and easy to use interface. You don't need to go through a large how to section to understand how to start using it. Just enter your text in the box and click on the look button.
Grammarlookup.com not only highlights the incorrect words but also generate suggestions for the writers. It can be used by both students and professional writers as their ultimate grammar checkup. The tool also helps in making the article easy to read and also check for style.
The free version offers all the services that a writer needs.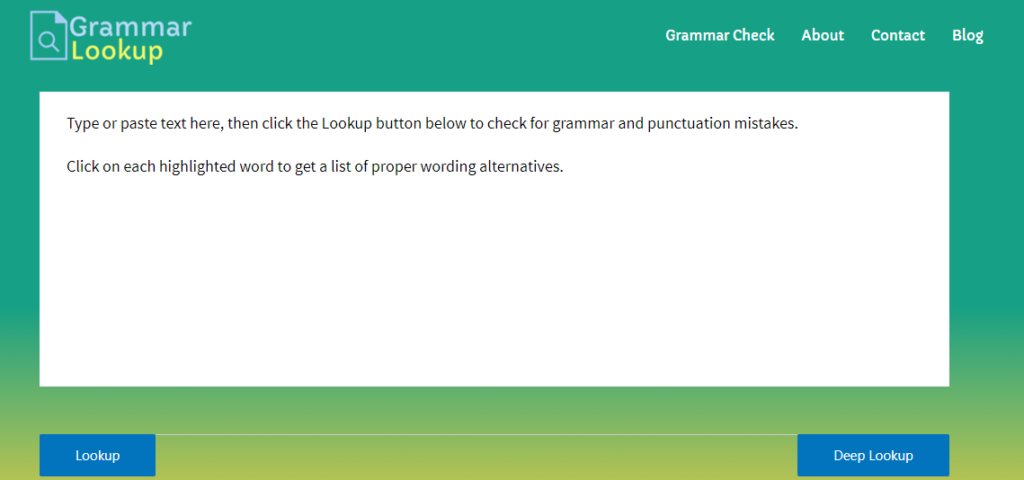 2 PUNCTUATIONCHECK.COM
Punctuationcheck.com is a completely browser based grammar checker. So, you don't need to install any extension or software. The tool is easy to use and can detect even the smallest errors that you make. The best thing about it is that it also has a explanation section which helps the writers in learning from their mistakes.
Thus, it won't make you dependant.
3 GRAMMARLY
Grammarly is yet another most used and praised grammar checker. The tools are easy to use and underline the words that are misspelled or used.
Although, it does less to help you improve the style or readability of the article. Still, it can help the writers in removing the major grammar mistakes from the text.
Writers can even upload their files on the website to be checked for grammar.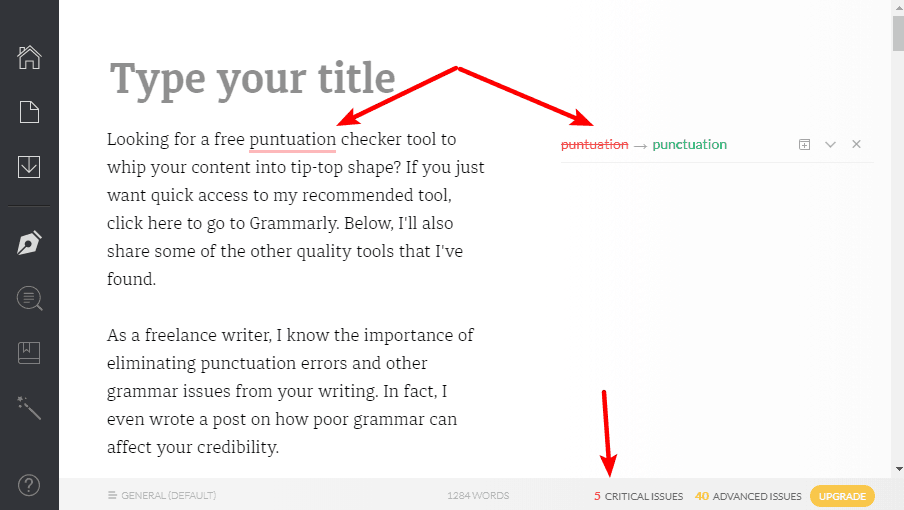 4 HEMINGWAY
Hemingway not only makes the article error proof but also makes them readable by the people. It checks for the structure of the sentence, grammar mistakes and the number of phrases that are difficult. On the basis of this, it generates a readability score that tells you how much your article is understandable.
Although, it does not provide a lot of suggestions for the mistakes, still can help you in transforming well-written articles into great articles.
5 SentenceCheckup.com
The thing that makes Sentence checker by SentenceCheckup.com tool different from others in the list is that it can be used as a grammar checker for numerous languages. The tool is easy to use and can be added as an extension to Google Chrome and Firefox. Besides all this, it also generates shortcuts for the users which makes proofreading a lot easier.
BOTTOM LINE
Now, you don't have to go through your written piece over and over again to remove errors. Online tools have made life a lot more simple. You just have to enter your text and allow the tool to do its work.