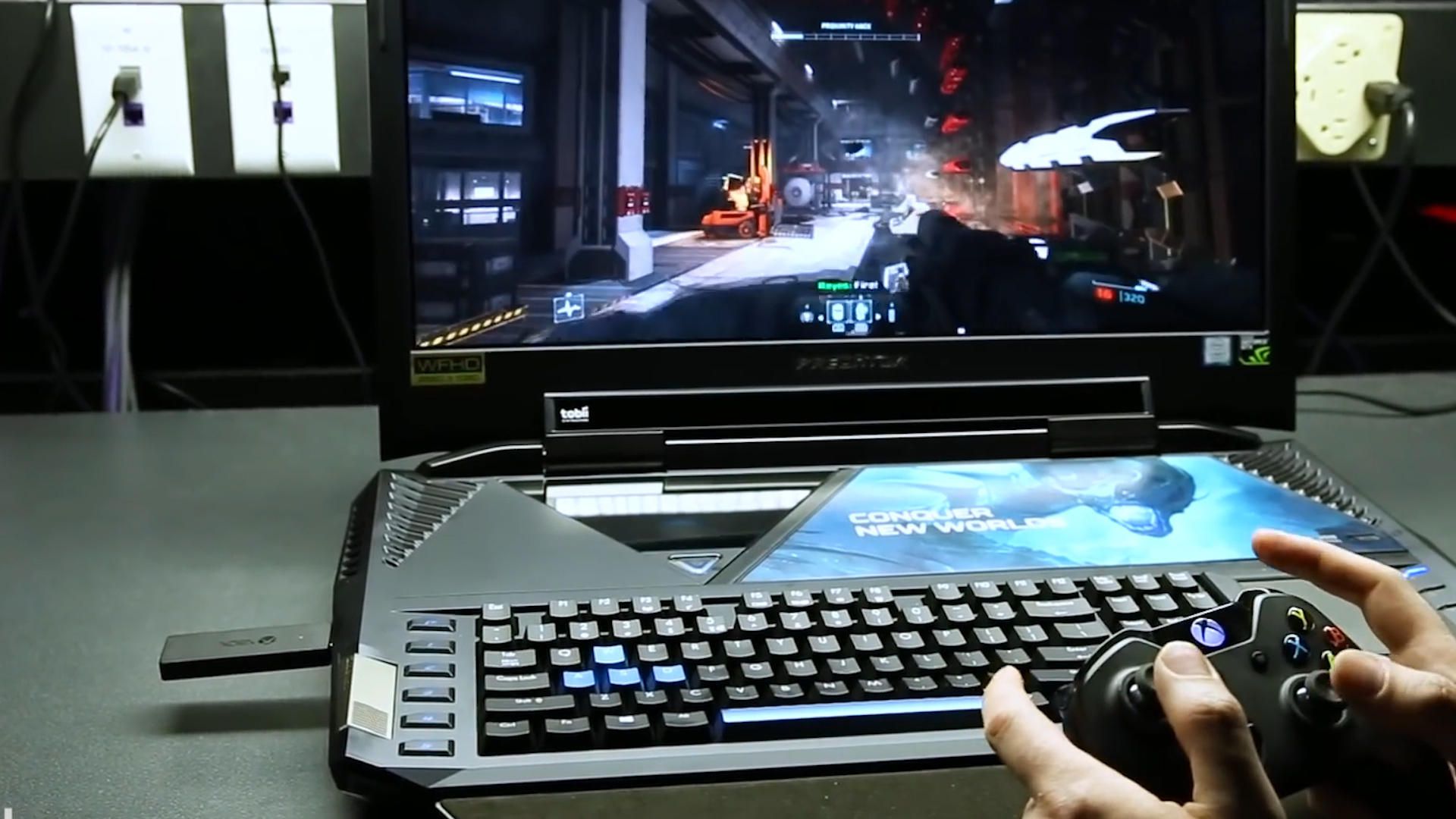 The reputed brand Acer brings to you a classy and edgy gaming laptop that will surely cut the deal with not only its look, but also its features. The Acer predator Helios 300 is the new generation of gaming laptop under 1000 with top notch quality features. It is highly recommended in the market and brings along good news for intensive gamers. It has the Geforce GTX 1060 6GB Graphics, latest 7th Gen Intel Core™ i7 processor and 15.6" full HD display. It has a 16 GB RAM, 256 GB SSD and 6 GB of dedicated GDDR5 VRAM.
Pros
The Acer Predator Helios 300 gaming laptop offers a powerful, VR-ready Nvidia GeForce GTX 1060 GPU for a lower price and gives a tough fight to its competitors.
It has a relatively long battery life that promotes a great run for an uninterrupted play.
It can be upgraded as per needs and that's massive plus point! We can improve it later and enhance the storage as well as the RAM as per our requirements.
Powerful hardware for the price with a comfortable design.
It's comparatively larger than other gaming laptops that further enhance the beauty and experience of the game. The Predator Helios 300 has a 15.6 inches – Full HD (1920 x 1080) widescreen IPS display.
Custom Engineered dual-fan cooling with the all-metal AeroBlade.
Cons
A very noticeable and negative point with this gaming laptop is that the display runs dimmer as compared to the other gaming laptops within its range.
The lid is a fingerprint magnet.
Bottom Line
The Acer Predator Helios 300 stands up as the VR-ready gaming laptop that is cost effective and upgradable. As one might notice from the above facts that the pros will highly weigh on our opinion of buying this laptop. Additionally, if we talk about its design and structural integrity, its pretty edgy and attractive. If you want to check Gaming Laptops Under 1000 Dollars, This ultimate buying guide can offer you an amazing results
Acer Predator Helios 300: Features, Specs
The features and specifications of The Acer Predator Helios 300 are mentioned and explained below. I hope to cover them all precisely:
Design
It can be undoubtedly said that – Acer has aced the design and structure of Helios 300. The laptop chassis includes a heavy use of plastic as generally most of the gaming laptops do! But Acer compensates this with a classy sleek, brushed-metal lid and black, metal keyboard deck. The keyboard's number pad utilizes red backlighting and red WASD keys; uplifting the experience even further.
No. Of Ports
Also, every gaming laptop must have one thing specifically; and so does the Predator. It has plenty of ports. You can find the USB type C port, Ethernet jack, SD card slot, USB 3.0 port, HDMI output on the left side. Similarly, on the right side you will see the USB 2.o ports and headphone jack. So, don't let your game stop.
Display
The 1920 x 1080 IPS display on the 15 inch screen is crisp and sharp with nice and wide-view angles. On the other hand, the laptop's display is way too dim comparatively and is otherwise lacklustre. And because of this, the color contrasts vary than the actual game. It would have been a complete gaming experience if the colors were brighter.
Keyboard Deck
The inputs from the keyboards are comfortable and responsive in nature. The chiclet-style keys have 1.6 millimetres of vertical space travel. They are backlit in red light only. This red lighting creates a great contrast for the black keys, enhancing the look even more. The keyboard doesn't have RGB lighting. The lights cannot be customised or dimmed. The 4.1 x 3-inch touchpad is quite spacious that allows the user to move freely and comfortably. So, in totality, the keyboard shines through it all.
Audio
The Acer Predator Helios 300 gaming laptop's TrueHarmony speakers are pretty good and loud, just how gamers usually prefer. One of the best advantage is the Dolby audio app that is preinstalled which gives a set of features such as games, movies and music modes. The default Music setting strikes the right balance. I am quite satisfied by the audio quality this laptop offers.
Battery Life
Surprisingly, this gaming laptop provides a huge battery life for the gamer to avail. It is expected to run for 7 hours while continuously browsing over WiFi. Most gaming laptops are hardly close when it comes to this feature. This is probably the best of it all under the price range and other offerings.
Software and Warranty
Acer provides the buyer with two years warranty.
Performance
The Predator is equipped with a 16GB of RAM, 2.8-GHz Intel Core i7-7700HQ CPU, and a 256GB solid-state drive that almost swipes out the chances of lagging or hanging. One can easily multi-task and still face no problems while doing so. If you would like to find a college laptop, At Desktopcon.org , you will find a lists of good choices when it comes to the best laptops for college student for 2018
Value and Configurations
The Predator Helios 300 has an Nvidia GeForce GTX 1060 GPU, a 2.8-GHz Intel Core 7-7700HQ CPU with 16GB of RAM, 6GB of VRAM, and a 256GB SSD.
Also, it is very easy to upgrade.
Should You Buy The Acer Predator Helios 300?
Let's take a quick summary of the entire review.
Besides, the dim display, there are hardly any huge negative points of this product. It offers technology at its best within a fair price amongst the competitive brands and its products. This is a great gaming tool. We hardly come across such laptops that comprise of well equipped features like this one offers. The look and feel of Helios 300 is impressive. Acer has once again maintained the brand repute by offering a gaming laptop covering all the main technical aspects giving attention to details and hardware.
What's in the box?
The product comes with a warranty card, user manual and a charger.
Conclusion
Overall, for gamers of today, who are in search of a decent yet edgy laptop with all necessary features, this laptop will check most of your demands within the perfect price range. The Acer Predator Helios is highly recommended by me.