Recently Cyber Security Experts report that tons of IP addresses are leaked. But the question arises how it happened? How that massive number of IPs leak with Virtual Private Network (VPN).
After the enumeration and analyzing, researchers found users real IP leaking through WebRTC leak along with a list of VPN vendors with internet logs. Which is quite dangerous for the victim.
Chrome VPN extensions are leaking DNS, logs, Real IP of their users. DNS prefetching in Chrome browser activated by default, it must be noted that the DNS leak is not related to the WebRTC.
Data Leaking Extensions Chrome:
1. Betternet
2. HoxxVPN
3. HOLA VPN
4. Touch VPN
5. Ivacy VPN
6. Opera VPN
These VPN extensions are most popular VPN extensions around the world. Millions of users using these extensions around the world. Over 8.7 million users are using HOLA VPN, Touch VPN has 2 million users, Betternet also popular having 1.4 million users while DotVPN has 900,000 users.
It is clearly predicted these users are at risk. Then what to do? is every VPN extension in chrome leaking our DNS info? No there are many other VPN services that are reported safe by the researchers. These extensions include;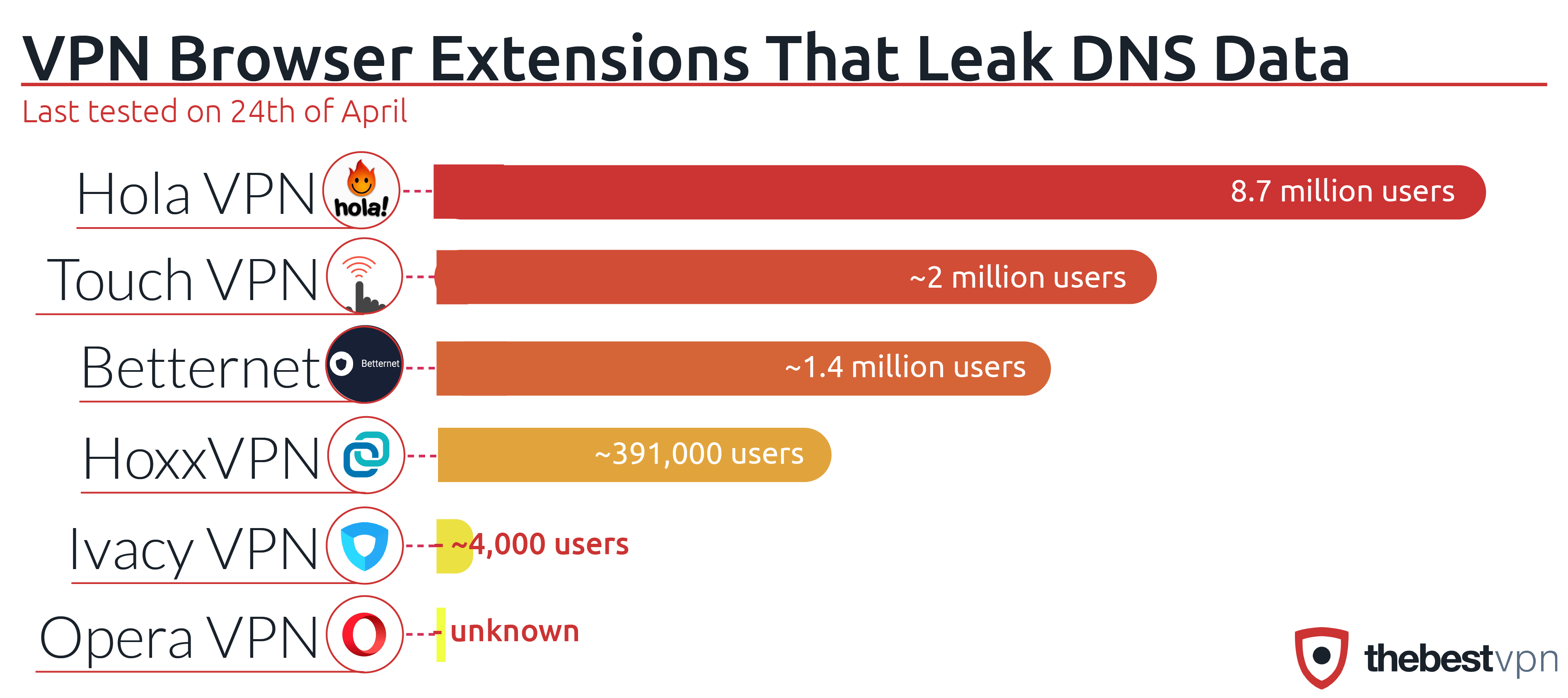 Nord VPN
Pure VPN
WindScribe
Cyber Ghost
Tunnel Bear
Zenmate VPN'
Hot Spot Shield
VPN Unlimited
Avira Phantom
Private Internet Access
DNS Prefetching:
Now the question arises, What is DNS Prefetching? Google Says "DNS Prefetching is "an attempt to resolve domain names before a user tries to follow a link". Once a domain name has been resolved, if the user does navigate to that domain, there will be no effective delay due to DNS resolution time.
The most obvious example where DNS prefetching can help is when a user is looking at a page with many links to various domains, such as a search results page. In this process, the actual domain name is set to the client before even he searched the exact domain link.
Solution:
So what will be the solution? If you're getting a bit scared about your DNS data don't worry Security experts have also provided the solution. There is a simple method to prevent this threat.
First Launch Chrome browser and type"chrome://settings/"in the search bar
Now Search Setting type "Predict"
Now Turn Off "Use a prediction service to help complete searches and URLs typed in the address bar"and"Use a prediction service to load pages more quickly".
And it will be better not to use such extensions that are once exposed. And always check for security updates on the Internet.