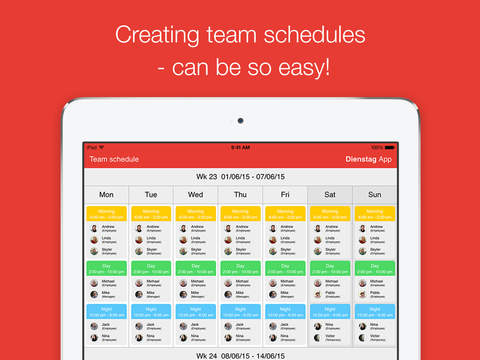 [app url="https://itunes.apple.com/us/app/dienstag-schedule-your-team/id903932752?mt=8″]
Introduction
Welcome to another review dear Tapscape readers, today we're featuring an amazing organizing app called Dienstag by Codeon GmbH & Digitise. Of course I've gotten the chance to check out this tool for businesses big and small alike, so without wasting any other words let's get right into the review.
Using Dienstag for organizing
One of the things I probably liked most about using Dienstag was the fact that it's elaborate enough to give employers an incredible tool to schedule their company while still being incredibly easy to use. Dienstag immediately takes care of you setting up an account and inviting employers to Dienstag is done very easily by assigning their name/e-mail address.
The app looks very professional with a slick and customizable palette of colors—which can also be assigned to specific employers and such. The quick tool bar on the left of the screen gives you quick access to everything you might need to start scheduling your business plans.
For example, you could get creative with Dienstag if you like—assign new employers a specific color and you will know exactly who needs introductions when they first start. Of course there are enough tools to do this as well, but what if an existing employer has been having problems lately or is not working quite up to par? Why not assign them a new color for yourself?
These are, of course, just a few hind sights of what Dienstag is capable of. With an intuitive drag and drop interface and enough options for notating reasons of absence, working shifts and more Dienstag really is an incredible tool for planning out your company.
Our conclusion
I loved every aspect of using Dienstag—albeit the price is just a little too steep in my opinion. Dienstag is an amazing tool for planning out all the things in your business that could normally very easily get out of hand and chaotic.
From the beautiful drag and drop interface to the wide plethora of options available, there simply is not a reason for businesses to check out Dienstag. If you are an employer and looking for a new way to manage your employer schedules Dienstag is the way to go.