Let's imagine you're planning a software project. Whether it revolves around a football app or reputation management software, whether it's your first endeavor or one among many, you need tech talent to put your business idea into effect. If you lack thereof in-house and don't want to hire freelancers — which is always a test of luck — think outsourcing software development.
Outsourcing has always been popular with startups and SMEs, and the situation is unlikely to change in near future. Previously outsourcing was mainly embraced to cut costs. Nowadays, companies understand other advantages of this practice, with the dedicated development team (DDT) model option coming in first.
In reality, DDT has become synonymous with outsourcing, and for a reason. Now, let us guide you through the basics of this model and explain why more and more companies are pinning their software hopes on dedicated teams.
DDT's Essentials
The DDT model is a type of outsourcing best suited for ongoing, complex projects with multiple technologies, frameworks, and third-party services. "Dedicated" here means the software development team you hire will work solely and exclusively for you, on a particular project.
This approach is an advantageous choice for those who know the pitfalls of in-house development and who are disposed to invest in gradual, iterative development of a high-quality product.
To avoid your "DDT venture" being a leap in the dark, decide whether this model corresponds to your short-term and long-term business objectives and take a thorough look at the benefits these software teams offer — as opposed to freelance programmers and in-house experts.
Lower Cost
Let's face it: in-house development is much more expensive than outsourcing — mainly because of high hidden costs. There are many indirect expenses associated with supporting in-house programmers: payroll taxes, health insurance, paid time off, traveling, equipment purchasing and operating costs, sick leaves, and pension contributions.
Favoring the DDT model means not only keeping all these costs down, but also saving money and time on recruiting, onboarding, and retaining tech experts — your outsourcing vendor will take care of that.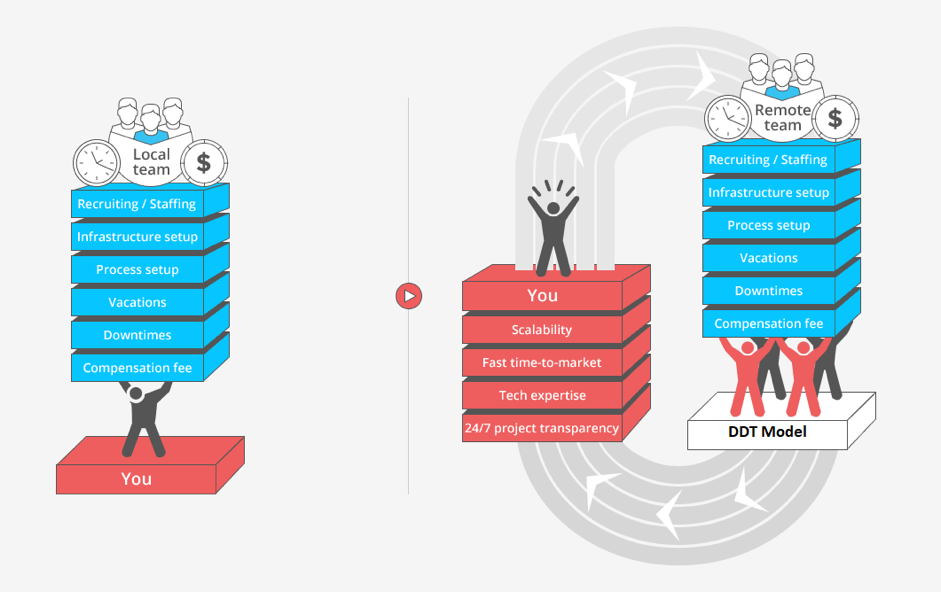 In general, inking a contract with a DDT will cost nearly 3.5 times less than engaging local tech talent in your software project — with all other conditions like expertise or tech stack being equal. And that is the number one reason why dedicated development teams are catching on.
Proper Control
Some businesses think hiring a DDT necessarily means lack of control over the development process — and that is utterly wrong.
First, you'll be highly involved in the process of choosing programmers for your project. That is because the DDT model presupposes interviewing a new team to make sure they're the optimal fit in terms of technical background and communication skills.
Second, the DDT approach is closely related to agile methodologies, — such as Scrum and Kanban — which entails:
close interaction between the client and the team via email, video calls, demos, JIRA, Basecamp, or other tools;
project execution control via transparent reporting, virtual and on-site meetings, clearly specified KPIs, and team size adjustments.
Flexibility and Agility
Another reason why companies prefer DDTs is that dedicated developers usually offer unparalleled project flexibility and scalability. That is again fueled by agile that uses short time-boxed sprints with each of them resulting in potentially shippable functionality.
Said differently, dedicated teams are change-friendly, which means they'll successfully cope with your continuously evolved requirements as well as critical market demands. Besides, being fully committed to the project's success, remote programmers are good at delivering products faster — without sacrificing quality.
To put it short, recruiting a DDT that highly favors iterative development models virtually guarantees you a quick start, scope flexibility, and early value delivery.
Time and Effort Effectiveness
Time is money, and if you don't want to splurge such a precious business asset, you should probably rely on the DDT model. In turn, you'll significantly reduce the number of management tasks as the responsibility to form and onboard the team will lie with the vendor. Moreover, you'll be able to minimize the risk of downtime caused by possible in-house developers' quitting.
Another benefit that agile-enabled DDTs offer is quick value delivery. As each sprint results in a potentially shippable increment (PSI), you can expect a working demo of your product in just four weeks after project kick-off.
Critical Skills Availability
Depending on your business idea and project scope, you may need the tech skills that are not needed all the time and are expensive to hire on a permanent basis — that is another reason to turn to a DDT. This way, you get direct access to the global talent pool able to rapidly and significantly expand your project's tech stack.
In addition, by outsourcing dedicated developers with rare skills to augment your on-site team, you can also boost knowledge sharing. In other words, the newly onboarded DDT would mentor your in-house experts and help acquire the necessary skill sets while co-building the solution.
Let's Wrap It Up
DDTs are becoming the model of choice for companies of all sizes and industries, and there are a number of reasons for that. The Top-5 comprises cutting expenses, getting business value quickly, enabling knowledge sharing and expanding the in-house team's tech skills, as well managing time and efforts more effectively.
However, mind the fact that as in any outsourcing venture, you'll need to make sure the potential DDT has a proven success record in creating industry-specific, profit-generating solutions. Before signing on the dotted line, ask for credentials — domain-specific case studies and customer testimonials — and take your time going through to B2B ratings and reviews.
Other questions to ask include intellectual right management, GDPR, communication processes, time zone differences, and cultural compatibility.
About the Author:
Yana Yelina is a Tech Writer at Oxagile, a provider of software engineering and IT consulting services. Her articles have been featured on ITProPortal, Business2Community, SmallBizDaily, and Datafloq, to name a few. Yana is passionate about the untapped potential of technology and explores the perks it can bring businesses of every stripe. You can reach Yana at yana.yelina@oxagile.com or connect via LinkedIn or Twitter.