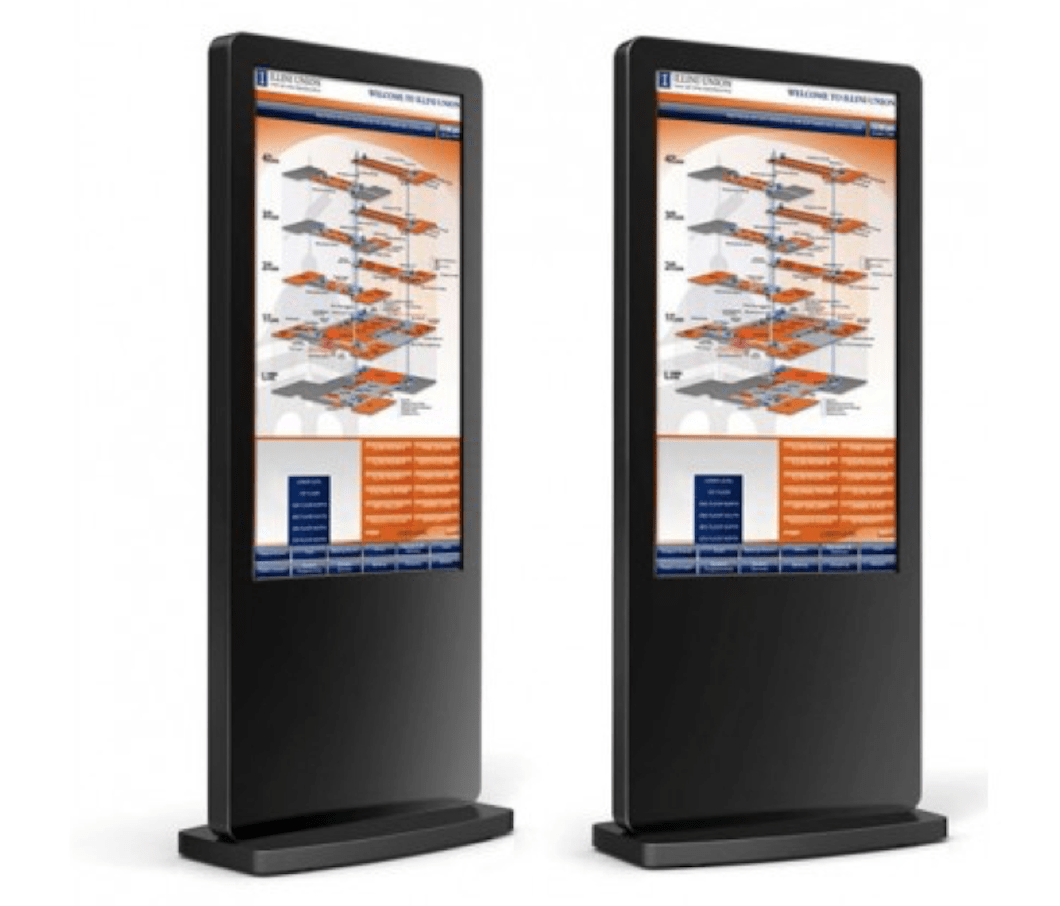 Digital advertising screens are now a common sight in retail, transportation, restaurants, cinemas and on the streets. They provide a greener and more convenient way to advertise your business without the need to change the graphic physically.
One unique benefit of digital screens is the ability to showcase multiple products without constantly changing the graphics. The screen will display moving images which are far more engaging than a static image.
Perhaps the latest innovation is the freestanding touchscreen display which allows customers to interact with the display allowing for better customer experience and collecting customer information such as names, email address and phone numbers. With smartphones and social media in common use nowadays, it is actually beneficial to use digital advertising screens in order to not appear out of date.
Touchscreen displays allow customers to pay via their smartphone, scan QR codes and share information via social media such as Facebook and Instagram. With all these advantages, using digital advertising screens are a no brainer. But what are the costs of implementing digital advertising screens?
Well for a start digital signage is obviously more expensive than traditional paper based advertising boards and there is also a subscription for the software. The cost of digital advertising screens may well be higher but consider the following differences:
Although digital advertising screens are costlier, the cost of reprinting a new graphic for traditional displays every time you need a new image can add up.
Touchscreen displays are not only useful, but essential for some industries. Airports for example allow you to reserve seats on the touchscreen display and hotels allow you to book rooms via touchscreens. Without this technology, the customer experience simply will not be the same.
Digital display advertising first came out at the start of the 2000s and it has revolutionised mass advertising by offering the capability to demonstrate products in motion, display different adverts at different times of the day or week and offering audio. This has enabled businesses to communicate their brands like never before.
The introduction of interactive digital signage is a significant leap in digital displays because of the new customer experience it offers. Never before has a business had the opportunity to collect personalised information from the customer, order products or services online, pay by smartphone or card and share on social media. Many food chains have already implemented touchscreen digital displays as an additional point of sale reducing customer queues and offering customers a much more convenient experience.
The Future of Digital Displays
Interactive touchscreen digital displays are revolutionary in a multitude of different sectors. Some smaller restaurants are adopting the interactive touchscreen display to improve their customer experience and this trend will continue.
As artificial intelligence continues to advance, the digital display will provide an even more personalised experience by showing the most relevant adverts based on the customer's interaction. The technology that gives the ability to download apps, play games, produce responsive ads is already here and more and more sectors will come to embrace it. The ultimate goal of interactive digital screens is producing an individualised experience for the customer through the use of AI. To find out about a wide range of digital display check out Discount Displays.