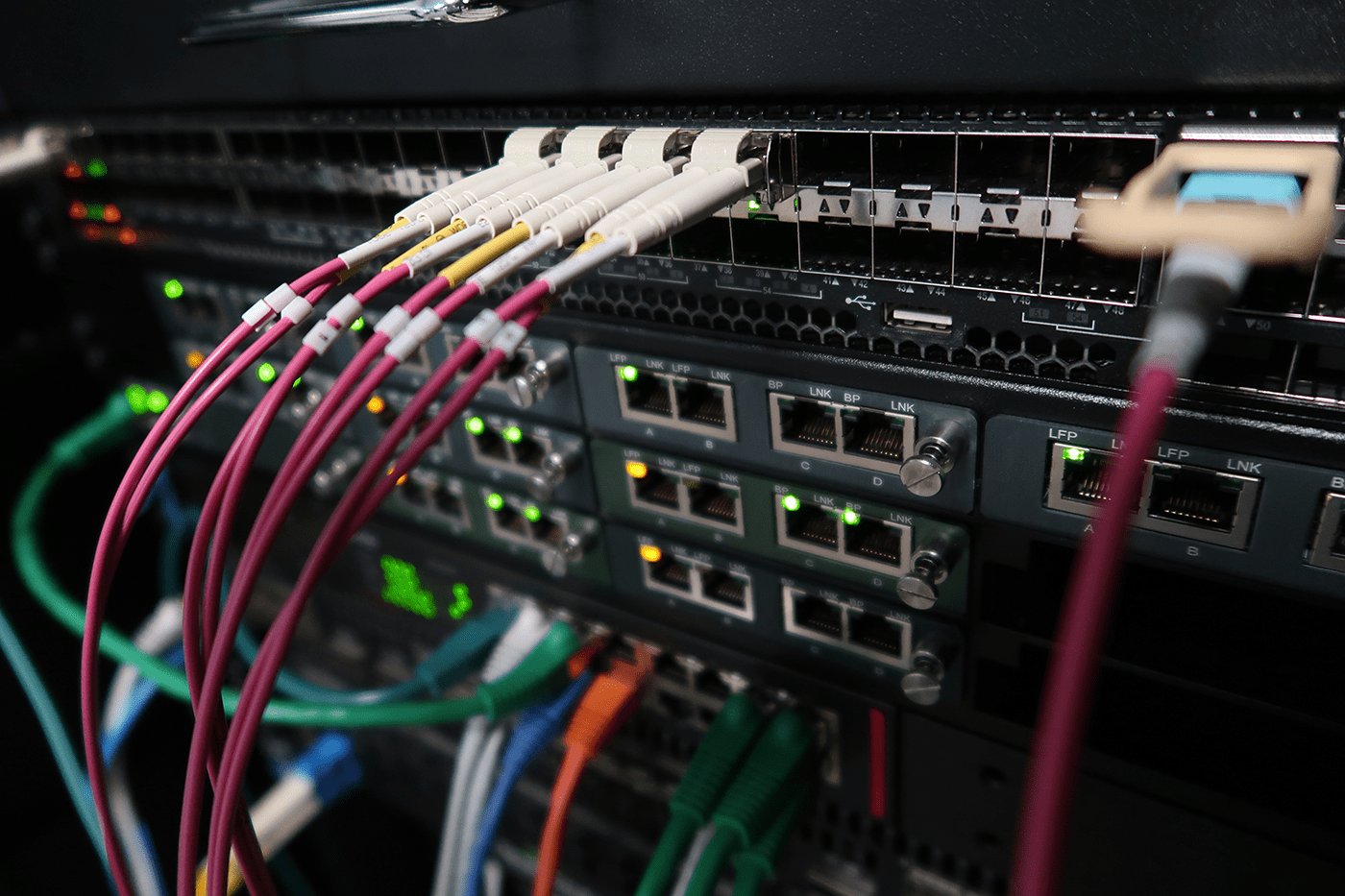 In data center application, 40G QSFP+ transceivers with MPO connector and 10G SFP+ transceivers with LC connectors are most common transceivers. But, with two different connectors, how can we make a connection between these transceivers? And how long the distance the network connection can possibly reach?
MPO/MTP to LC fiber patch cord is a good solution for this problem. Besides MPO/MTP to LC fiber patch cord, we can manage the further connection with the help of MPO/MTP cassette and optic fiber adapter. How come these devices interact with each other and make a complete, effective network connection?
We have a 40G QSFP+ SR4 transceiver that has 4 independent channels with MPO connector. And four 10G SFP+ SR transceivers are also at our hands, which have duplex LC connectors. How many solutions we can make them into a connection? Let's explore it.
1. Direct and Short Range Connection(≤100M)
If you want the directly connection, a MTP to LC fiber patch cord is needed. But it only limited to the distance on the same switch or the switches on the same rack. The longest reach of the connection is 100 meters.

2. Middle Range Connection A(≤300M)
Middle Range connection requires more devices to participate into this connection. In order to have more extendable range, two new devices need to be introduced. It is a MPO cassette and a MPO optic fiber adapter. On on side, the QSFP+ transceiver connects with a MPO fiber patch cord and a MPO optic fiber adapter. On the opposite side, the 4 SFP+ transceiver connect with 4 LC-LC fiber patch cords and a MPO cassette. Between the MPO optic fiber adapter and the MPO cassette, there is one more MPO fiber patch cord managing the connection. With the help of MPO cassette, the switches connecting with the 4 SFP+ transceivers will not limit on the same rack. It has more freedom to extend the space of whole network. And it also allows the replacement of devices on the endpoint. The longest reach of this connection is 300 meters.

3. Middle Range Connection B(≤300m)
There is another middle range connection solution. It is almost the same with the upper one except for a little difference. On the side of SFP+ transceiver, it connects to a MPO-8LC fiber patch cord and a MPO optic fiber adapter, which replaces the MPO cassette and four LC- LC optic fiber patch cords. Compared to middle range connection A, it has the disadvantage in SFP+ transceiver's side. Because it has no flexible ability to change the connected switches or other devices. The longest reach of this connection is 300 meters, which is the same as the upper one.

4. Long Range connection A(≤400M)
There are two kinds of long range connection. Both are a little complicated. One of these solution requires two MPC fiber patch cords, 8 LC to LC fiber patch cords and one MPO-LC cassette. The other solution has a more complicated structure. It needs two more MPO cassettes. These solutions apply for where long distance application is required.

5. Long Range connection B(≤500M)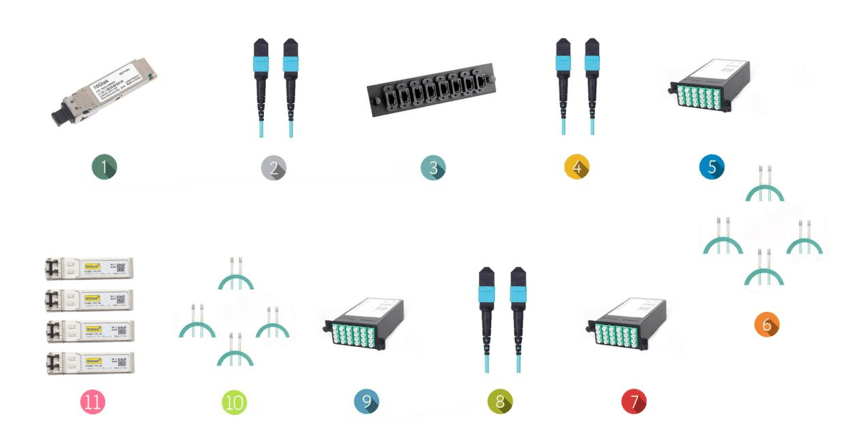 Conclusion
These are the typical solutions for connecting between QSFP+ transceiver with MPO connector and SFP+ transceiver with LC connector. It's only some references. There is no single solution to be omnipotent. The more extensive network range is required, the more optional solutions are generated. It is always important for choosing the best solution under your own application.