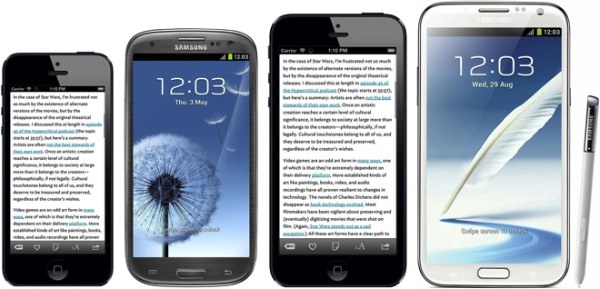 Serve and volley. Apple will and Apple won't release of a 5-inch smartphone this year. Here is a fresh rumor out of Asia that indicates a 4-inch iPhone 5S and 5-inch iPhone 6 are coming in 2013 — somebody at an unnamed supplier has seen both products. Less "certain," however, is the notion that 802.11AC is part of those plans.
Chinese blog Laoyaoba.com (Mandarin) that both the iPhone 5S and iPhone 6 have been seen. Their writeup doesn't specify whether the devices were seen in one piece, respectively, or as scattered components.
A source told Chinese mobile phone information site Laoyaoba.com that he has seen the iPhone 5S and iPhone 6 at Apple's suppliers. Both models may be released in 2013, according to the website's microblog on Thursday evening.
The source noted that the iPhone 5S resembles the iPhone 5, and the five-inch iPhone 6 is lighter and thinner.
Thinner AND lighter? It's almost as if the behind the write up are familiar with Apple.
iPhone 6 with 802.11AC?
The good folks at Macworld Oz are spinning a plausible but even less unsubstantiated tale that the iPhone 6 could arrive with 802.11AC, or 5G wifi, built in. This rumor has been kicking around since at least August 2012.
Further, 802.11AC is expected/hoped to arrive in Apple's 2013 Mac revisions. Though the specification has been formally ratified, Apple has a habit of rolling wifi tech earlier, notably every version since 802.11b.
That said, 802.11AC is also known as gigabit wifi and you've got to wonder whether it has any practical benefit in a handheld device.
Desktop 802.11AC? Yes, because it obviates wires. Smartphones, not so much.
Macworld Oz opines that Apple will implement gigabit wifi in the 5-inch iPhone 6 because Samsung is expected to deliver 5G wifi in the upcoming Galaxy S IV. Really? No, Apple doesn't roll like that (i.e. NFC).
Are you ready to buy, with or without 802.11AC, a 5-inch iPhone 6?
via BrightWire, image Marco Arment