First of All congratulations to the team SmartARM for winning the 2018 Imagin Cup. As I have mentioned in the heading that The Imagine Cup 2018, winner team also features a Pakistani Student. As well as there is a Bangladeshi student also in smartARM. We will talk about them but first, let me tell our viewer a little about Imagine Cup.
Microsoft Imagine Cup 2018:
Imagine Cup is a competitional event held every year. This event is sponsored and hosted by Microsoft Corporation. The Imagin cup brings together student developers worldwide to help resolve some of the world's toughest challenges. You can also consider it an "Olympics of Tech". This competition started in 2003. It is one of the top competition for computer science and engineering students. The reward of winning Imagine cup is also highly admired and considered as the biggest achievement.
In Imagine Cup 2018, 40,000 student competitors registered worldwide. Out of which 49 teams of 33 countries were selected to participate in the Imagine Cup 2018 finals. After 3 days of performance showcases and showing the demonstrations by the participants. The judges looked impress with every team and it was a tough decision to choose 2018 Imagine Cup winner. But finally, the results turn out in the favor of Team SmartARM. And team SmartARM won the Imagine Cup and a mentoring session with Microsoft CEO Satya Nadella, $130,000 in cash.
SmartARM – The winner of Imagine Cup 2018: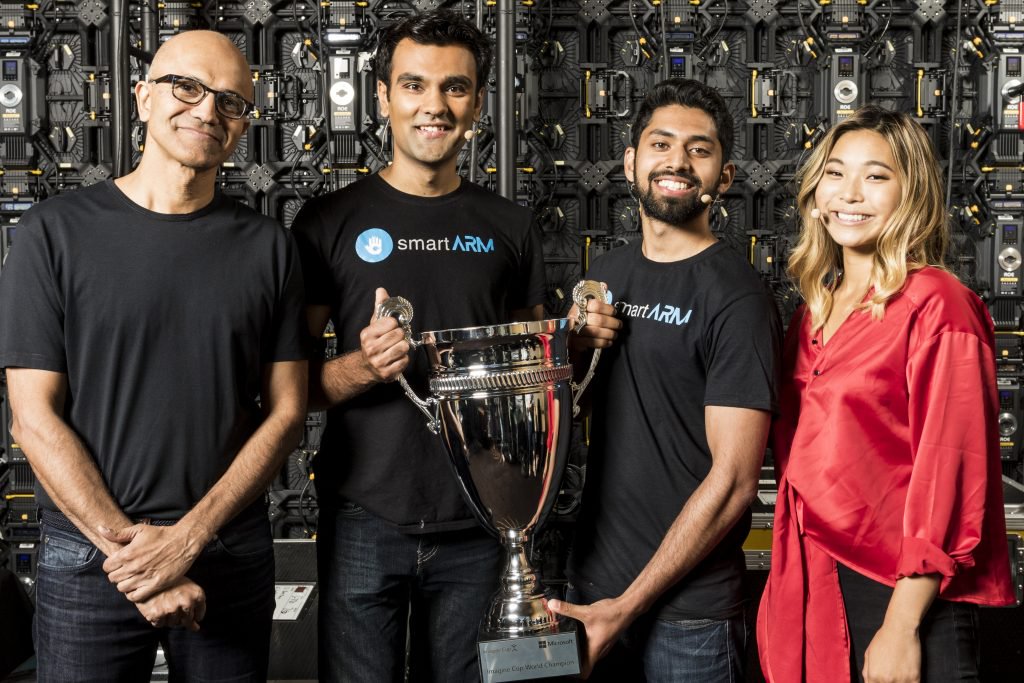 SmartARM created a robotic hand prosthetic, using Microsoft Azure Computer Vision, Machine Learning, and Cloud Storage, that uses a camera embedded in its palm to recognize objects and calculate the most appropriate grip for an object. Based on machine learning, the more the model is used, the more accurate it becomes. But as all data is stored in the cloud, the trained model stays with you even when you switch devices.
The inventors of this wonderful project are Canadian students from the University of Ontario Institute of Technology, University of Toronto, Canada. The SmarARM is created by Hamayal Choudhry and Samin Khan. Hamayal basically comes from Pakistan. He is a 2nd-year Mechatronics Engineering Student at the University of Ontario Institute of Technology. And his mate Samin Khan is basically from Bangladesh and studies in 3rd-year Computer Science at the University of Toronto.
This is a proud moment for both genius minds and their families. As well as their countries. Congratulations to both on winning one of the biggest tech competition.