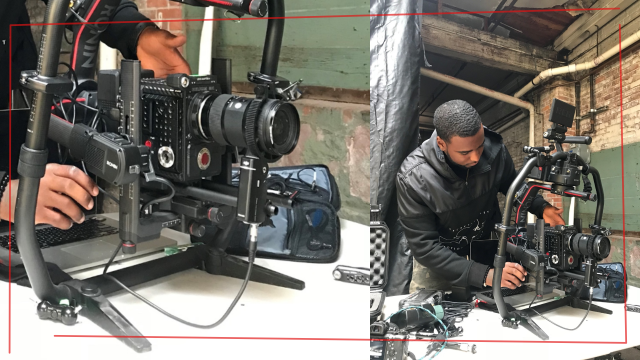 Ishell Vaughan started from shooting photos at a baby shower to becoming a rising phenomena in the music video, filmmaking and cinematography industry. His eye for detail and unique brand of video creation has landed him stellar work partnerships and collaborations with big names such as GQ Magazine, BMW, Akon, MTV and Lamborghini.
The founder and creator of media and entertainment company Ishell Vaughan Films, Vaughan also runs a subsidiary firm called The Raw Sessions where artists get to present their talent and show to the world. Currently, Vaughan is working to release a movie titled 'My First Film' where he was the photography director. In the future, Ishell mentions he wants to utilize technology to sell digital assets and merchandise to film makers.
Aside from the 9 years' working experience, Ishell completed a bachelor's degree in Applied Science in Electrical and Electronics Engineering in DeVry University. Early on, he showed immense talent, imagination and creativity within the artistic film genre and showed a unique mix of photography, film and cinematography perspective, which he cultivated within a detailed and analytic approach. Also, Vaughan has shown good management and problem solving skills and continually looks for new ways to achieve excellence.
With such a strong foundation there's no wonder that Ishell is one of the rising stars in the filmmaking world. Clients could rely on his expertise and understanding of technical details whenever they want to produce music videos, commercials and short films. The cinematography expert is also a licensed drone operator, with a fleet of production-level drones at his beck and call.
Ishell believes that the quickest route to personal fulfillment is to just have fun with your craft. He also helps aspiring artists, directors and photographers achieve their dreams whenever he has the time, and the rest is spent with close friends and family. His hobbies include traveling, working on cars, visiting racetracks and further honing his craft.
Ishell Vaughan is a tour de force in the world of cinematography, with a unique brand of vision and filmmaking creating waves within the industry. It's only a matter of time before he achieves worldwide success and the accolades of his peers.
For more information you can reach:
https://www.instagram.com/ishell.raw/?hl=en
https://www.facebook.com/ishellvaughan
https://twitter.com/ishellvaughan_
https://www.linkedin.com/in/ishellvaughan/