Samsung fans are in for a treat! The Korean manufacturer has started rolling out the long-awaited Android 4.1 Jelly Bean update for their flagship Android device, the Samsung Galaxy SIII.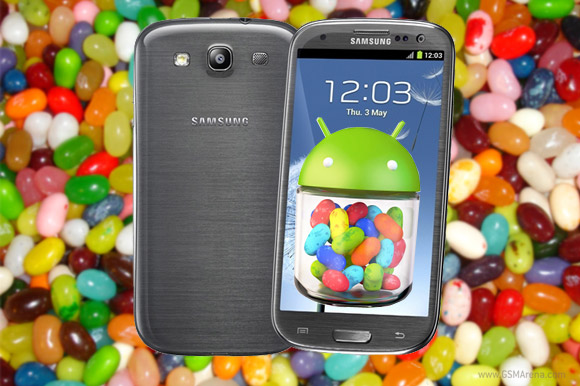 Samsung Galaxy SIII users should expect the following enhancements with the Android 4.1 Jelly Bean update:
Better performance, thanks to Project Butter it's even smoother and faster
Reorganized settings menu
2 Homescreen modes
New Notifications bar
Google Now
Resizable Pop-up play screen
SamMobile states that these are just some of the changes you should expect but users should notice a couple more.
A statement by Samsung to The Verge reveals that in addition to the Samsung Galaxy SIII, other Samsung devices are scheduled to be upgraded to Android 4.1 Jelly Bean. Here's the complete list:
Samsung Galaxy S II
Samsung Galaxy S II LTE
Samsung Galaxy Galaxy Note
Samsung Galaxy S Advance
Samsung Galaxy Chat Samsung Galaxy Ace
Samsung Galaxy Ace Plus
Samsung Galaxy S Duos
Samsung Galaxy Beam
Samsung Galaxy Mini 2
Samsung Galaxy Tab 2 7.0
Samsung Galaxy Tab 7.0 Plus
Samsung Galaxy Tab 2 10.1
Samsung Galaxy Note 10.1
A mystery device was also included in the list, something called "Galaxy Music," but Samsung has yet to confirm what this device is.
Users can use the Samsung Kies program to download the update or wait for an OTA (over the air) delivery.
Is your device included in the list of Samsung devices that will be getting the Android 4.1 Jelly Bean update? Are you glad that Samsung is making an effort to get Android updates to their devices much faster than before? Share your thoughts in the comments below!