In this article, we will guide you on how you can download the Snaptube 2019on your android device for free! With this app, you can enjoy downloading your favorite movies and songs from YouTube, Facebook, Instagram, Dailymotion, and from any other big video streaming websites.
Snaptube 2019 Review
Snaptube has been downloaded by over 40 million people around the world, making it one of the best mobile apps to download YouTube videos available for Android devices.
That being said, Snaptube 2019 is currently not available on Google Play store since it doesn't fit Google's Play store policies. Therefore, the app is only available for download on 3rd party websites. To make it easy for you, we decided to share the mobile app in this article just for you.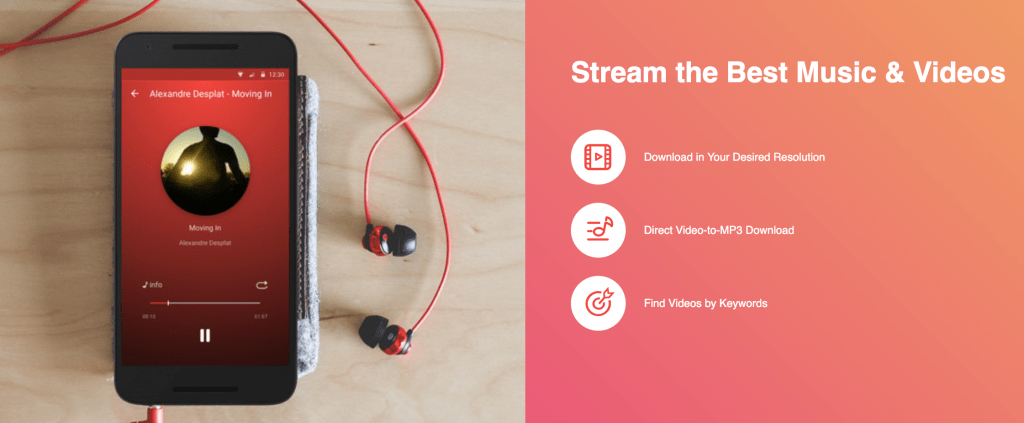 Snaptube 2019 Download
Currently, the app is available for Android devices only and comes in an APK format. Just so you know, we are not the official developers of the app.
However, we downloaded the app from the official website and decided to share it in this article. To download the Snaptube 2019 mobile app, all you have to do is click on the orange download button below:
Snaptube 2019 Installation
It's extremely easy to install the app and exactly like any other Android app installation. If you don't know how to install Snaptube 2019, follow the steps below:
Download the app on your Android device (The download link can be found above in this article)
As the app is downloaded, you should see an "Install" button. Tap on that install button.
In case the app fails to download, you will need to go to Settings > Security and enable "Unknown sources" option. After that, download the app again.
That's all, now the app should have been installed without a problem.
Uninstall Snaptube 2019
If you didn't like the app and want to uninstall it, follow these steps:
On your Android device, go to "Settings".
Then go to the "Applications" tab.
Find the Snaptube 2019 which you installed
Tap "Uninstall" next to the application name.
You will then be asked if you really want to uninstall it, tap "Yes".
The app should be uninstalled without a problem.

Is Snaptube 2019 Safe?
Since it's downloaded by over 40 million Android users around the world, we believe that this application is really safe to install. However, we really cannot guarantee if the application is safe for download or not since it's coded by 3rd party app developers to make YouTube video downloading easy. Therefore, you may download this app at your own risk. We are not responsible for any damage that this app may cause.
Snaptube 2019 Supported Websites
Users can download any videos from the following websites:
facebook.com
instagram.com
vevo.com
whatsappdaily.com
dailymotion.com
vimeo.com
vine.co
vuclip.com
metacafe.com
liveleak.com
twitter.com
tune.pk
soundcloud.com
mthai.com
pagalworld.com
dailytube.in
mrpopat.in
pinguda.com
3gpmania.co
funnyordie.com
vid.me
Snaptube 2019 for iPhone and iPad
Sadly, the app is not available for the iPhone devices yet. However, the developers are working on it. The release date is yet not known, but all we can do is wait. You may bookmark this article check back again later in a few months as we will update this post as soon as it's available for iPhone.
Snaptube 2019 on Windows
The Snaptube 2019 app is originally designed for Android devices. Therefore, a special version for Windows OS is not available at the moment. However, this doesn't mean that you can't use the app on a Windows device.
In order to get the app running on Windows, you will need to install Android emulator. Currently, the best Android emulator is BlueStacks that will allow you to install Android OS on any Windows computer.
Once the Android OS has been installed, you will need to install the Snaptube 2019 app just like you would on any Android device. If you aren't sure on how to install an app on Android, you may want to read above as I have already shared the steps.