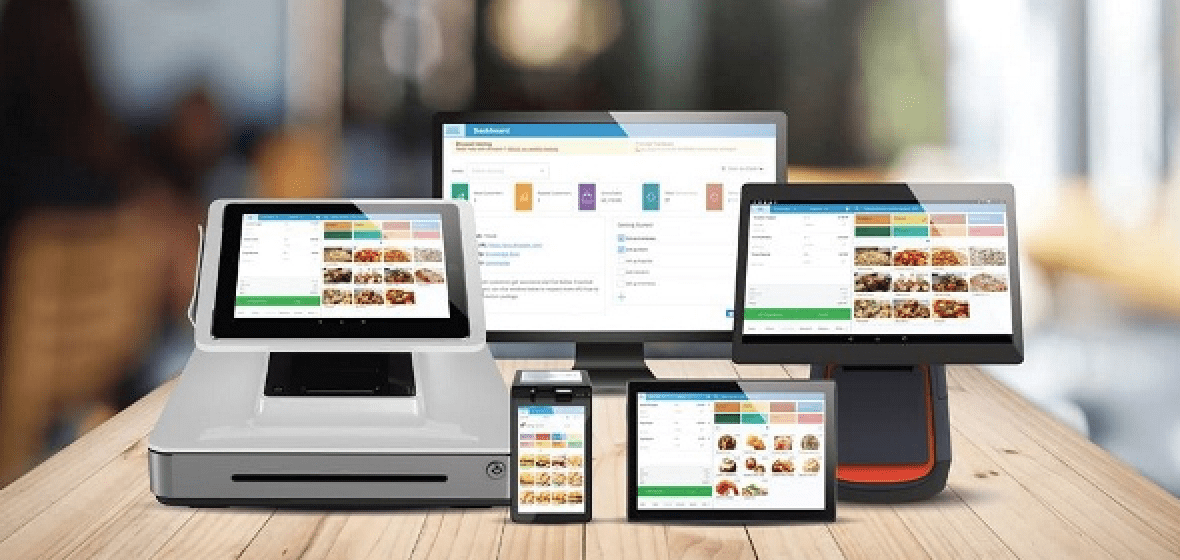 Good restaurant technology is front and center to smooth restaurant operations today. And one of the primary functions of restaurant technology is simple and error-free billing. When you are looking to set-up your restaurant or upgrade the operations of your existing outlets, you may be tempted to go for a low cost restaurant billing software to start. But software is to your restaurant operations, what roots are to trees. Once it grows into the system, it is hard to uproot. It makes sense then to evaluate your options before you decide to invest.
What is a traditional billing system?
A restaurant billing system is essentially a cash register. It's primary task is to generate the bill and kitchen order ticket. That's it. Not much else.
What is the modern restaurant POS system?
The modern restaurant POS system (commonly known as a billing system) does all that and more. It brings online and offline orders on the same platform and collects data that feeds revenue generating functions like marketing, CRM, loyalty programs etc.
A modern billing system also streamlines your restaurant's operations by automating oft-recurring tasks. This brings down the time spent in clerical tasks.
How to choose a restaurant billing system that is right for your restaurant?
Understand the features that are available in modern billing systems
Evaluate their benefits
Take a close look at integrations and connectivity
Evaluate if you need to upgrade your billing software
In this article, our goal is to highlight the important features of your modern billing software, the technologies that it is equipped with, the benefits of using it and the questions you should ask yourself before making the switch.
Features of the best modern day restaurant billing software
1. Cloud-based
Statista pegs handheld tablet POS systems as the hottest trend in restaurant technology in its report. The 'portable' cloud POS is rapidly replacing the legacy billing system. Legacy billing systems need a higher upfront investment, can be operated only from your restaurant, can lead to faulty data storage and have questionable security.
Instead, being on the cloud has certain benefits:
Data Storage: Data is stored on enterprise grade servers built by software giants like Amazon and Google. This makes your data more accessible and minimizes the chances of leakage.
Pay as you go: Modern cloud POS systems come with subscription based payment models that save you from making a high upfront payment. Just imagine if the traditional POS you bought gets obsolete in a few months. All that investment would go down the drain. Your cloud restaurant billing system only needs a low monthly recharge and you can end the subscription anytime you want! Further, you make small payments every month. Reducing your CAPEX can do wonders for your restaurant's finances.
Device agnostic: Your cloud restaurant POS can run on any kind of device – a phone, or tablet; iOS or Android. And you can access it from the comfort of your home.
Software stays updated: Another reason to pick cloud based billing systems over others is that the software that it runs on remains automatically updated from the software company. This way the software evolves with your needs.
2. Online Order Management
This feature is meant specifically for restaurants that are focussed on the delivery side of their business. Managing online orders can be a task. Imagine orders coming from multiple delivery apps, at different times and landing on different screens. It's both inconvenient and difficult to manage. With the help of the current POS systems, you can now manage online orders through your restaurant billing software. A single screen for all your own and third party orders.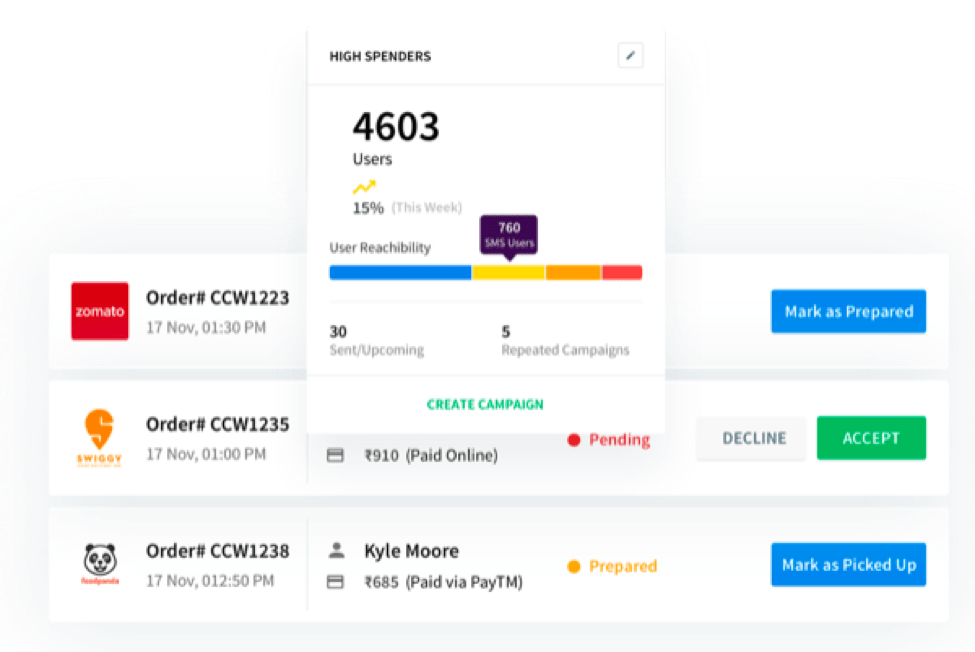 Managing third party online food ordering sites
This makes managing delivery exponentially more convenient. And reconciling all your multiple payments at the end of the month so much easier.
3. Analytics
Structured data can be very valuable for your restaurant allowing you to segment your target audiences. Data when synced well with your analytics tool, gives you insights and allows you to take data-driven decisions with greater precision. It is important for you to define a few metrics across functions before you go about measuring your performance.
Some basic ones to start with are Daily sales by source of order and outlet wise sales performance.
4. Integrations with Restaurant Loyalty and Feedback Systems
Restaurant loyalty programmes only work when they can be redeemed both online and during a walk-in. This is one of the greatest benefits of the modern restaurant POS system over a traditional billing system. Your restaurant's loyalty programme should be integrated with your billing software so that you can make loyalty transactions through it.
As for feedback, it should be recorded in the history section and displayed when repeat orders are placed allowing staff to have better intelligence about who is in front of them. Also, it goes without saying that the feedback data recorded should sync well with the billing software so that they show up for your staff to see at the right times.
5. Supports multiple payment modes
Accepting different payment modes is now a hygiene for any restaurant. Especially at a time when customer preferences are shifting towards mobile payment options. So whether it's cash, payment wallets or debit/credit cards, your billing system should be able to handle all of that.
6. Integrations with CRM Systems
Acquiring new customers is extremely important for your business, but retaining them will accelerate profitable growth. Following up with a customer via SMS and Email campaigns and giving them a reason to come back is a powerful way to attract repeat customers.
7. A single system for everything
With multiplying order sources and increasing complexity, integrated restaurant management systems are the need of the hour. One single system that takes care of the bulk of your operations and also integrates the revenue generating functions such as planning, marketing, and analytics.
8. Accessibility
The modern mobile POS systems let you access your data no matter where you are or the time. The mobile restaurant billing software works on all mobile devices and tablets. Once the software system is installed on your device, you are good to go and can operate from even the remotest of locations (provided you have access to the internet of course).
9. Automated restaurant management
Once data is collected into your POS, you can set-up an automated workflow. You could then connect most of your Front-of-house operations with your back-of-house tasks. Imagine delivering Kitchen Order Tickets straight to the kitchen after taking an order on a handheld POS tablet. This would significantly impact how quickly your customers get served. You could then market to customers who have already experienced your superior customer experience and have them become loyal brand ambassadors of your restaurant.
10. Employee tracking
Modern restaurant POS systems allow you to record employee punch in and punch out times. This gives you visibility on who is handling your cash at different times.
11. Tax compliance
Modern billing software is built to ensure strong compliance with your local or regional tax compliance requirements.
Some questions you should ask yourself to see if you need to upgrade your billing system
Are operations timely?
Any issues faced by the customers in the payment process? Are they happy with the kinds of payments supported by your billing software?
Do the changes get reflected real-time when you make updates from your tab and mobile?
Are you gradually decreasing your order processing (order-kitchen-service) time?
Are the engagement statistics on your CRM campaigns better with the automated frameworks set-up?
What is your customer repeat rate?
Can customers redeem loyalty points no matter online or offline?
We hope you have favourable answers to the questions above. If not, it could be time to start taking a closer look at your restaurant's technology. And it starts by taking a look at your billing system. We strongly recommend you do a thorough research before finalizing a restaurant billing software. The features and benefits covered in this article will allow you to be well versed with what makes up an ideal billing platform for your restaurant.
More power to you!