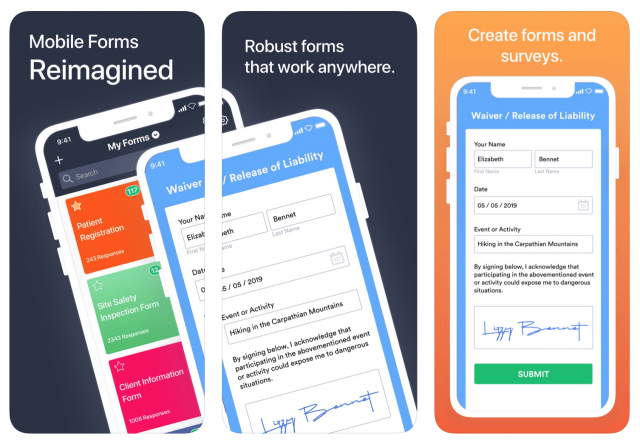 JotForm Mobile Forms is a powerful mobile form builder that's flexible and easy to use. With it, you'll be able to craft beautiful and professional-looking forms that you can use to collect data for your business.
Be sure to download this app free of charge for both Android and iOS devices.
JotForm Mobile Forms enables you to
Create, edit, and view mobile forms
Use paperless forms to save time and money
Manage and collect information quickly
Fill out surveys and forms regardless of connectivity
You can fill out forms and access submission data even when you don't have an internet connection. The app automatically syncs to your JotForm account when you connect to a Wi-Fi hotspot or LTE signal.
Collect data no matter what device you use
JotForm supports a wide variety of devices, from tablets to smartphones. You can access the app and review submissions or fill out forms anywhere. Changing devices is a snap.
Collaborate with your team
With JotForm Mobile Forms, you can assign forms to team members. They'll be able to access the assigned forms even without a JotForm account, and you'll be able to take action according to their responses.
You can also share forms via text, email, or apps such as LinkedIn, Facebook, and Slack.
What can JotForm do?
JotForm is the world's easiest online form builder. With drag-and-drop functionality and more than 5,000 customizable templates to choose from, you'll be able to create surveys, signup forms, contact forms, work order forms, application forms, registration forms, and more without any coding skills.
You can use some of JotForm's widgets, including calculations and conditional logic, to automate tasks. Autoresponder emails and data analytics help to streamline workflows. And you can integrate with popular CRM platforms via Zapier.
JotForm protects your data via 256-bit SSL encryption and Level 1 PCI DSS compliance. JotForm is fully GDPR compliant as well.
JotForm has an attractive price point that's sure to meet the needs of many companies. You can choose from several packages or opt for the free version, which includes 100 submissions. The 24-7 support team is always ready to help.