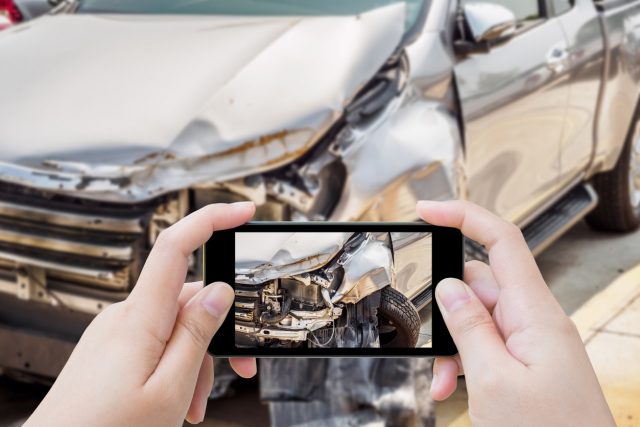 Being involved in an automobile accident is never pleasant, even if all parties involved in the accident are unharmed. Filing a police report, swapping information with others involved in the accident, and calling insurance agencies are all part of the process of handling a car accident. Whenever you are involved in a car accident, it is important to know which steps to take first to protect yourself financially, legally, and medically at all times.
What to Do After a Car Accident
Knowing what to do immediately following a car accident you have been involved in is essential to prevent legal or financial risk, regardless of who is at fault for the accident itself.
Stay at the Scene of the Accident: If you are not incapacitated and if you have the ability to, remain at the scene of the car accident or crime. An individual who chooses to leave the scene of an auto accident prior to filing an official police report may be held legally responsible for fleeing the scene of a crime or they may be classified as a hit-and-run driver and charged accordingly. Even if you are at fault for an accident and you find yourself scared and panicked, it is imperative to remain on site of the accident until police and paramedics have arrived and cleared the scene.
Check for Injuries: If other individuals were also involved in the accident, be sure to verify their injuries and to help if possible. If you are not seriously injured, trapped, or paralyzed, assist anyone else on the scene who may require medical attention while calling for help.
Contact Local Authorities: Contact your local police department immediately following a car accident and inspecting vehicles for potentially life-threatening injuries. Inform the police of your accident as well as any injuries you have observed while waiting for help to receive the appropriate assistance. The police officers who arrive on the scene will then help with filing a formal written police report that may be necessary for any future insurance claims you intend to file.
Exchange Insurance Information: With any car accident, it is always important to exchange personal information and insurance details with any other passengers and motorists involved. Exchange license plate numbers, personal contact information, as well as insurance policy numbers and other details associated with each driver's insurance company.
Obtain Witness Statements: Whenever possible, speak to other potential witnesses who may have seen the accident you were involved in. Ask for the names of witnesses who are willing to go on record or provide a formal statement involving the accident.
Photo and Video Media: Take as many photos of the accident scene as possible if you are able to, but only if you are not seriously injured. Not only is it important to take photographic evidence of your own vehicle and any injuries you may have sustained, but it is also highly advisable to take photos and video of any other vehicles and individuals who were also involved in the accident. Video media can help to highlight damage and injuries that were sustained during an accident in real-time and with clarity, which is optimal if you intend to pursue the accident case in a court of law and in front of a judge.
Avoid Sharing Too Much: Avoid posting too much information regarding your auto accident online and with the use of social media. Discretion is key whenever you are dealing with a legal case, especially a legal case that involves automobile accidents, injuries, and financial risk.
Document Your Pain and Suffering
If you intend to pursue a case that involves you receiving financial compensation, it is highly recommended to purchase and maintain a daily journal or log. Use your daily journal to keep track of the mental, emotional, and physical pain you struggle with due to the auto accident you were involved in. Keeping an ongoing journal is extremely beneficial when you begin filing your lawsuit or seeking compensation from the insurance agencies tied to individuals who were involved in the auto accident as well.
Seek Legal Counsel and Representation
Seek a car accident personal injury attorney to help represent you with your case in front of a court of law. A personal injury attorney specializes in handling car accident claims and cases, whether you require financial compensation for a loss of employment or to help cover medical expenses due to injuries you have sustained. With the right car accident personal injury lawyer, gain peace of mind knowing you have proper representation and that you are in the right hands.
Common Injuries Sustained During Car Accidents
Before seeking out a Los Angeles accident attorney to represent your car accident case, it is important to know the most common types of injuries that are often sustained during car accidents. Once you are familiar with the types of injuries you have sustained, you can then work together with your chosen personal injury attorney to build a case in your favor. Some of the most common injuries that are likely to occur among individuals involved in automobile accidents include:
Whiplash
Fractures: Bone fractures are not uncommon in any automobile accident, regardless of speed
Soft Tissue Damage: Soft tissue damage occurs anytime there is a hard collision involving vehicles
Concusions and brain damage may occur in vehicle accidents, regardless of speed. Due to the dangers of closed head injuries including traumatic brain injuries, it is always advisable to seek medical attention anytime you endure a collision of any kind.
Spinal issues including slipped disks, lumbar problems, and even cervical issues may occur
Filing a Lawsuit Seeking Compensation
Before you file a lawsuit seeking compensation for the automobile accident you were involved in, your personal injury attorney will inquire about why you are seeking compensation. Most individuals seek compensation after an automobile accident due to the following reasons:
Loss of Employment/Loss of Wages: If you have recently lost your current position or you have experienced a lengthy loss of wages, you may be entitled to financial compensation.
Physical Injuries/Suffering: Immense physical pain and suffering can help with pleading your case for financial compensation, especially if you have suffered serious and even life-threatening injuries or damage to your body.
Emotional Trauma: Emotional trama and distress can help with receiving financial compensation after an accident.
Medical Expenses: If you have medical expenses from the car accident and you are not at fault, you may be entitled to financial compensation. Rehabilitation, therapy, and future medical costs may also be considered.
Understanding the importance of taking precautions following a car accident is imperative to prevent legal and financial risk. Whether you have sustained whiplash or more serious injuries, knowing what to do immediately after you have been involved in a car accident can significantly improve your chances of having your case ruled in your favor.
Have you recently been involved in a car accident and you are searching for legal representation? Contact West Coast Trial Lawyers for additional information regarding services we provide and to learn more about how a Los Angeles accident attorney can help you today.