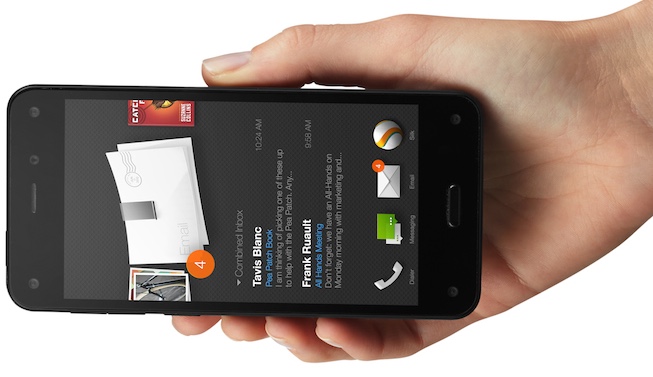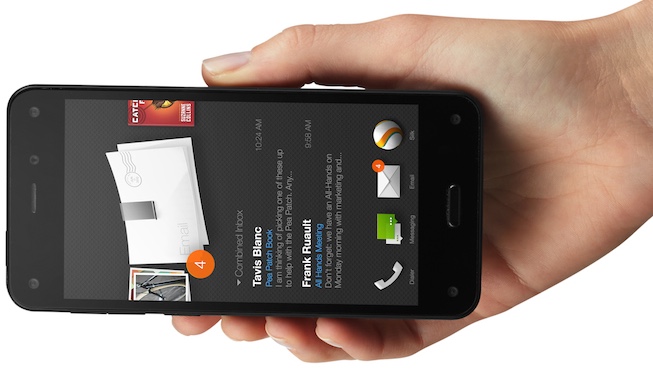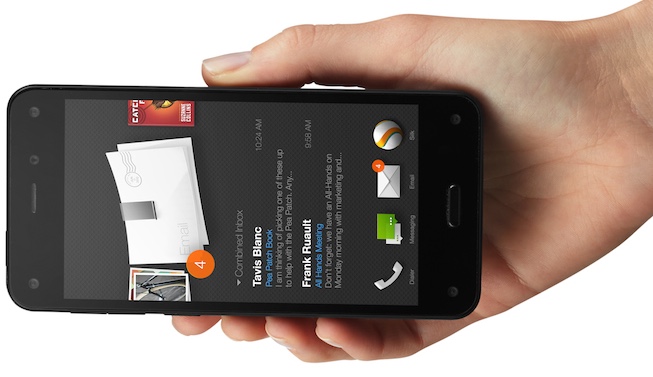 Amazon has officially entered the smartphone sweepstakes. Everything store CEO Jeff Bezos has introduced the world to Fire Phone, which is mostly "me too" but has some interesting Amazon only features that could help set it apart.
And, Amazon really needs to sets itself apart. The Fire Phone is a 4.7-inch device with a 2.2GHz Snapdragon 800 SoC that's paired with 2GB RAM and 13MP camera running Fire OS 3.5, the company's proprietary Android fork. Can you say, meh?
Yep, not a lot to get excited about there, but the Fire Phone is only just getting warmed up. While early rumors indicated Fire Phone would feature 3D, the rumors got the details wrong, almost completely wrong.
There are cameras tucked into all four corners of the front of its 4.7-inch screen—not for taking Brady Bunch selfies, but to pull off some fancy "Dynamic Perspective" tricks. Using the camera's face-tracking input, you can look around onscreen objects, even peer behind them. It's not about popping-out-of-the-screen 3-D, but about infusing a sense of depth and realism into a bunch of flat pixels. Your phone becomes a little diorama box, with stunning effects for 3-D maps, games, and home screen wallpaper — Wired
As with Amazon's Kindle and Fire tablet product lines, Fire Phone is largely about getting you into the Amazon ecosystem and buying. To that end, Fire Phone buyers get a free year of Amazon Prime (free 2nd day air, free Instant Prime Video, Prime Music, etc), as well as free Cloud Drive and 1,000 Amazon Coins (ie free apps).
Amazon Firefly: This Is Not SciFi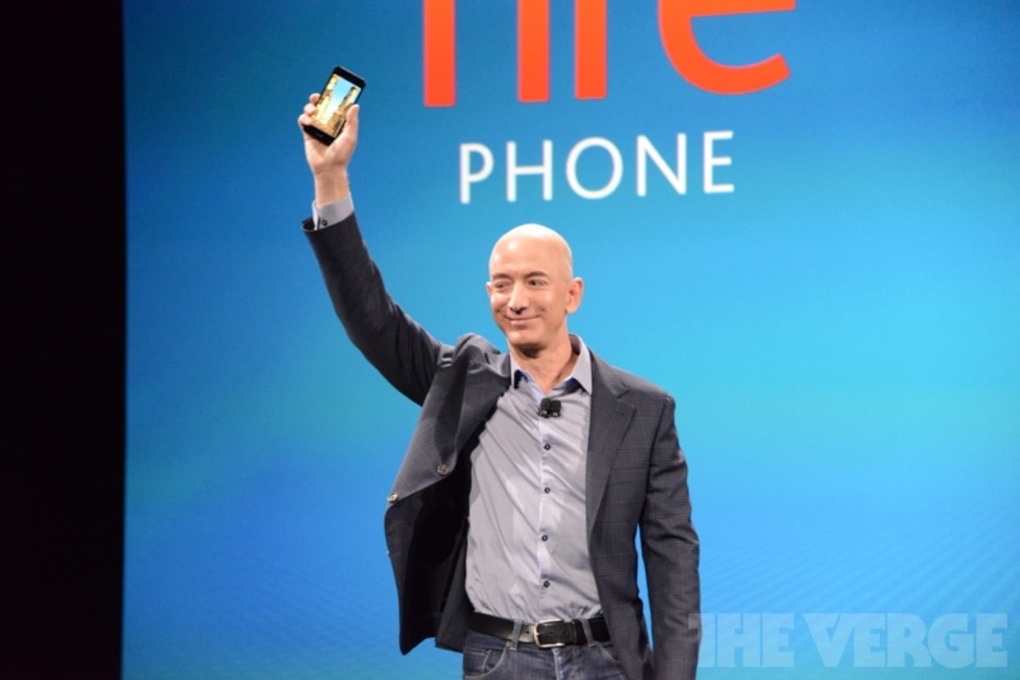 Perhaps the biggest inducement to buy is the Fire Phone's Firefly functionality. Though not "new" per se, Firefly extends and enhances how much of the world a smartphone can recognize (and help you buy):
Firefly, the tool that automatically recognizes basically everything the phone looks at and hears — Bezos quickly demoed the feature with a DVD, detergent, a song that was playing, and more, and the phone almost immediately gave him a way to buy everything. It's not a new feature, even for Amazon, but it appears to be deeply integrated in the Fire Phone — The Verge
Again, like the Kindle and Fire tablets, Fire Phone wants you to shop, shop, shop.
The Amazon Fire Phone starts at $200 (64GB, $300) and requires a two-year contract. Although an Amazon phone + MVNO might have been super cool, for the time being at least, Fire Phone is an AT&T exclusive with availability set for July 25
Liking the Amazon Fire Phone or will you be sticking with your Android or iPhone? Pity it's not more affordable…
What's your take?