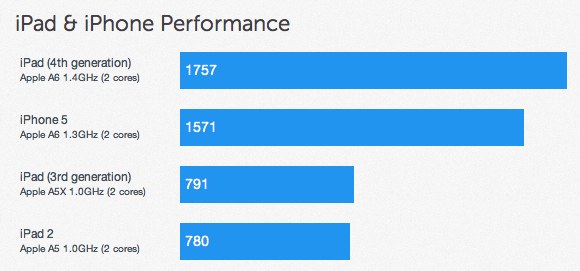 Specs are just words and numbers until they are proven useful. Though Lab results aren't prima facia evidence of utility, Fourth Generation iPad benchmarks show a 2X performance improvement. What else do we know about Apple's latest tablet? Step inside for the fresh juice.
iPad3,4 Geekbench results are available and confirm Apple's marketing claims that the Fourth Generation iPad with A6X processor + quad-core graphics deliver twice the performance of the iPad 3 and its A5X chip + triple-core GPU. Further, the benchmarks confirm that Apple's custom dual-core SOC runs at 1.4GHz.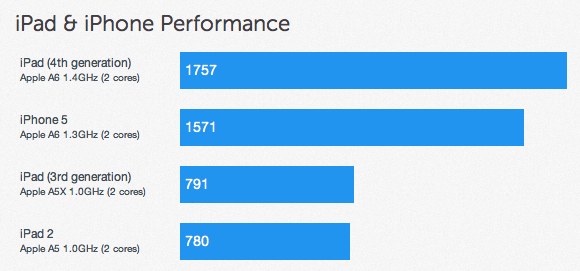 Competing tablets are often built using quad-core processors that promise superior performance. Yet that bigger iron hasn't translated into real performance; just inferior battery life.
Interestingly enough, the Fourth Generation iPad gets that 100 percent performance increase using the very same 1GB RAM complement found in the third-gen Apple tablet, which speaks well of company's hardware integration prowess. Or put more crudely, the size of the boat is important, but the motion in ocean is ultimately what matters most.
That said, shortly after its release, tests showed the iPhone 5 to be the fastest smartphone, besting Samsung's well-regarded Galaxy S III among others. It will be unsurprising if lab results similarly show Fourth Generation iPad benchmarks coming in head and shoulders above the Android and Windows 8 competition…
What's your take?
via MacRumors