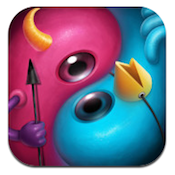 [app id="576806224″]
JOOL is an iPhone game developed by ROSTLAUB. In JOOL, you play as two characters at once: just turn the device 180 degrees to change between the characters and turn the whole world upside down.
In JOOL, you play as a dopey bird that's connected to his ego, a dual character that works well in the 360 degree game environment. This arcade platformer requires fast reflexes, and (because of all the turning of the screen) a strong gut.
Part of JOOL's appeal comes from the brutal, over-the-top character deaths. After you die in the game, you'll be subjected to a short "cut scene" that's only a few seconds in length. You can download 30 of these "death movies" for 99 cents, and watch them at any time for your amusement.
The real draw here are the lush visuals. The levels are imaginatively designed, and the characters are quite imaginative. I haven't been this impressed with a game's overall look since I played Superbrothers: Sword and Sworcery.
If you own an iPhone 5, or an iPad with a Retina display, you absolutely must download JOOL. It is optimized for the iPhone 5, and looks phenomenal on Apple's top-of-the-line mobile devices. JOOL is an universal app and requires additional disk space up to 100 MB on iPad Retina.
If you love infinite level games with one-touch controls and awesome graphics, JOOL will be right up your alley. This imaginative game has innovative controls, great graphics, and a ton of addictive charm. This is one title you don't want to miss out on, especially if you have an iPhone 5 or an iPad with a Retina display.
JOOL is compatible with iPhone 3GS, iPhone 4, iPhone 4S, iPhone 5, iPod touch (3rd generation), iPod touch (4th generation), iPod touch (5th generation) and iPad. Requires iOS 5.0 or later. This app is optimized for iPhone 5.