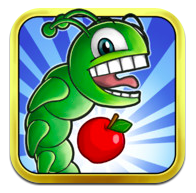 [app id="533209262″]
Little Chomp is an iPhone game developed by ClutchPlay Games. In this addictive little game, you're tasked with helping a cuddly caterpillar climb from the forest floor to the canopy in record time, all while collecting coins and fruits.
Little Chomp works on a drag-based control scheme. Pull and release on Little Chomp's tail to aim and fire him in any direction. Pulling and holding on his tail gives you a visual guide of the arc he will travel in upon release. The controls are very responsive, and they make the game a joy to play.
Managing your travel arcs is just one part of the challenge. You'll also need to grab as many coins and fruits on your journey upward as you can without sacrificing speed. If you fall back to the forest floor, you can aim yourself at some of the bouncy mushrooms on either side of the screen, which will catapult you back up at least partway.
After you've collected enough fruit, you can start using the fruits to feed your caterpillar friends. When fed, these caterpillars transform into butterflies. Collect all the butterflies, and you'll be a happy camper indeed. You'll need to collect different types of fruit to unlock the various butterfly types.
With a playful, percussion-heavy soundtrack and cute graphics, Little Chomp is a terribly fun game. It manages to provide a balance of speed, strategy, and fun that not many simple games can master. In short, it's well worth 99 cents, particularly if you're a fan of cute little bugs.
Want to see Little Chomp in action? Check out this video on YouTube.
Little Chomp is compatible with iPhone 3GS, iPhone 4, iPhone 4S, iPhone 5, iPod touch (3rd generation), iPod touch (4th generation), iPod touch (5th generation) and iPad. Requires iOS 4.3 or later. This app is optimized for iPhone 5.