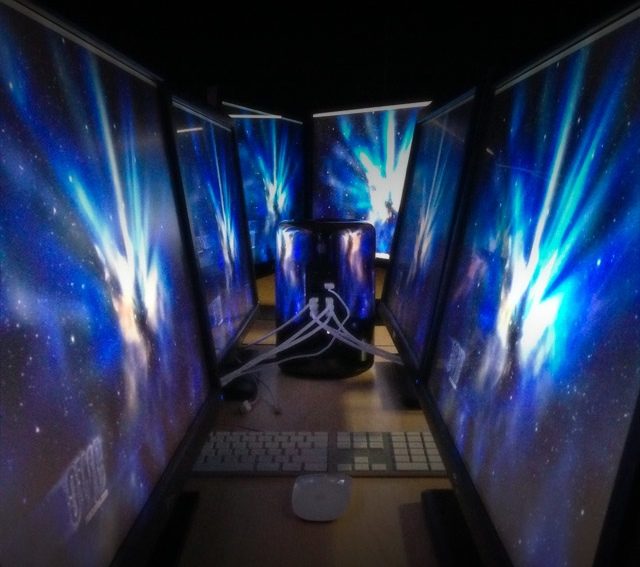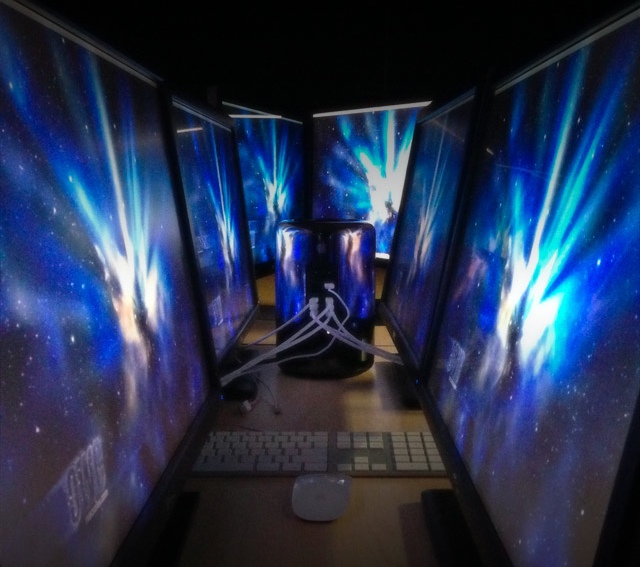 When introduced in June at the Worldwide Developer Conference, the world assumed that the Apple's new Mac Pro would be completely locked down. Since then, we learned that the RAM, SSD storage and dual graphics cards are, at least technically if not feasibly, user upgradeable. Now, add the Xeon multicore processors to the list of upgradeable items.
Apple has been delivering new Mac Pros to giddy buyers for several days now. Among the lucky few are the guys at Other World Computing, who quite naturally took it apart.
Well those 6 Thunderbolt ports on the back of the new Mac Pro were just staring me in the face to try 'em all out. Since the new Mac Pro can do three 4k monitors, I thought it should be able to handle six 27-inch monitors. Yup, sure did. All 2500+ resolution on the width. Five Dells, one Apple cinema display, all connected via mini DisplayPort — Other World Computing
New Mac Pro: Real Choices?
And, yes, OWC discovered that the Xeon E5 sits on a standard Intel LGA 2011 socket. As things stand, you can pay Apple to upgrade:
3.5GHz 6-Core Intel Xeon E5 with 12MB of L3 cache: +$500
3.0GHz 8-core Intel Xeon E5 with 25MB of L3 cache: +$2000
2.7GHz 12-core Intel Xeon E5 with 30MB of L3 cache: +$3500
And, sometime down the road, there are plenty of Intel LGA 2011 socket compatible Xeon E5 processors will be available at retail on Amazon, Other World Computing, Newegg and on the gray market. No, they aren't cheap, but Apple has left open the possibility of upgrading the new Mac Pro's processor, which is a good thing™.
Apple has said RAM — OWC sells 32GB and 64GB for $449 and $895, respectively — is a user upgradeable feature.
Now, the big question is whether or not Apple will deliver upgrades, or allow third-parties, that are compatible with the new Mac Pro's GPU and SSD sockets.
So, following months of angst and (pre-emptive?) anger, it turns out the Apple's new Mac Pro is (technically) very upgradeable. How that turns in practical terms remains to be seen.
At the very, very least, though, users will be able to upgrade the new Mac Pro's RAM and processors…
What's your take?