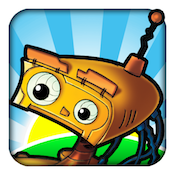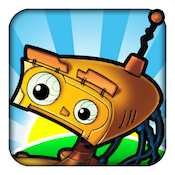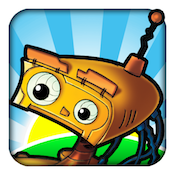 Price: $0.99    Score: 9/10     Category: Games
If you love robots, explosions, and games that aren't afraid to poke a little fun at themselves, then check out the tank-blasting action of The Adventures of Retrobot, developed by Endeavor Bros Interactive Software and Monkube.
When a cadre of evil robots sets their sights on world domination, it's up to Retrobot and his monkey pal to set things right (and rescue Spencer, the man who built Retrobot.)
Because Retrobot the character was originally designed to play video games with his human master, much of this title's humor comes from slapstick humor inspired by video game in-jokes. Poking fun at some classic gaming titles, as well as the industry in general, this sense of humor makes Retrobot really stand out from other games in the genre.
The gameplay itself is interspersed with great comic book style cut scenes, which help to advance the story while still feeling connected to the gameplay mechanics. Another thing that helps to fuse comic and video game elements is the awesomely epic soundtrack, which keeps you pumped up enough to tackle even the toughest boss battles.
An interesting note about the great music in Retrobot: it was composed by Maurits 'Mo' Goossens, part of Monkube's in-house music team. Goossens also contributed to the music for "The Aviator" and 2012 Oscar winner "The Artist." No wonder the music is so good!
The control mechanics couldn't be simpler: one thumb moves a slider back and forth to control your movement on the field of play, while another thumb controls the angle of your gunfire. The controls are silky smooth, and really responsive, which ensures you won't get frustrated in the middle of a battle because of glitchy mechanics.
Retrobot plays a lot like one of my all-time favorite blast 'em ups, Alien Hominid. But Retrobot beats out Hominid when it comes to story and slightly more complex humor. Perhaps Retrobot's developers will take a cue from Alien Hominid and offer wi-fi supported multiplayer levels in a future update, offering even more ways to blow stuff up.
Even after you beat the game, the hits keep on coming: a Challenge Mode, with one life, no retries and faster enemy spawning and a Boss Challenge await you (and the Game Center glory you can achieve in Challenge Mode is pretty cool.)
For just 99 cents, you should definitely check out this awesome game while it's still at a low introductory price. Retrobot's got everything you could want in a game: humor, robots, monkeys, and guns.
Check out the launch day trailer here!
The Adventures of Retrobot is compatible with iPhone, iPod touch, and iPad. Requires iOS 4.2 or later. The Adventures of Retrobot is not supported on iPhone 3GS and older, iPod 3rd gen and older, or iPad 1.