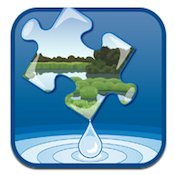 [app id="571258773″]
Water Cycles is an iPhone game developed by Raquel Sanchez Anzola/isygames. In this educational, family-friendly title, players will learn about pollution, ecology, and water quality.
Players will guide water from the mountains to the sea, through cities, towns, crop fields, forests, farms, marshes and factories. As the water is moved, and it will get dirty and pollute the groundwater. Your goal is to carry the largest possible amount of water to each waypoint in the game, while keeping it as clean as possible.
Controls are pretty simple. The playing field is a grid, where you must place various tiles that feature water features, water treatment plants, and more. Place the tiles on the grid to guide the water from the source, through the city, and out to the sea.
With surprisingly challenging gameplay, Water Cycles gets kids excited about the game while simultaneously planting the seeds of environmental awareness in their brains. It's the rare educational game that doesn't try to cram "education" down the player's throats, and it's a better game for doing so.
Water Cycles is a great buy for anyone who is fanatical about privacy, as well as for any parents who are afraid that their kids will spend too much money on in-app purchases. Water Cycles does not collect or share any personal data, has no ads or in-app purchase components, and does not link the user to any social networks accounts (though there is a link to the developer's Facebook page for more info.)
If you're looking for a fun title that will get your kids asking questions about the environment and ecology, Water Cycles is a great choice. The game is also appropriate for classroom use.
SCORE: 8.5/10
Water Cycles is compatible with iPhone 3GS, iPhone 4, iPhone 4S, iPhone 5, iPod touch (3rd generation), iPod touch (4th generation), iPod touch (5th generation) and iPad. Requires iOS 5.0 or later. This app is optimized for iPhone 5.