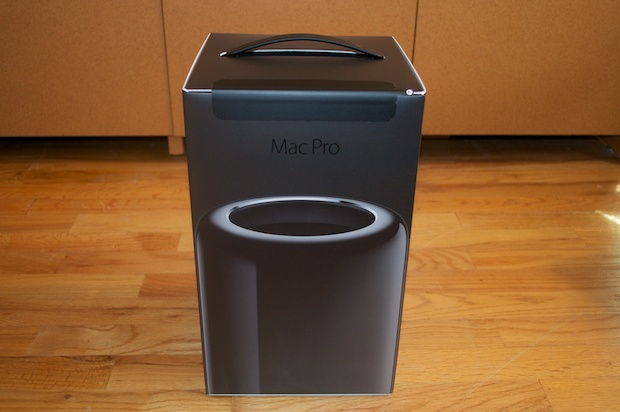 It has been a long slow slog punctuated by stalls and temporary retreats as estimate ship times ebbed and flowed. However, a week ago, various blogs noted that 2013 Mac Pro ship times had shrunk to under a month for the first time.
Now, Apple has shaved off another week, shrinking delivery times for stock 2013 Mac Pros to three weeks or less. More tellingly, the online Apple Online Store affiliate program now considers the 2013 Mac Pro commissionable product.
Clearly, Apple is feeling confident about Mac Pro availability going forward.
Dear Bob,

We are pleased to advise that the new Mac Pro is now a commissionable product on the Apple Online Store as of Thursday, May 8th, 2014.

Designed around an innovative unified thermal core, the Mac Pro features the latest Intel Xeon processors with up to 12 cores, dual workstation-class GPUs, six Thunderbolt 2 ports, PCIe-based flash storage and ultra-fast ECC memory. Packing amazing performance in a stunning new design, the all-new Mac Pro starts at $2,999 (US).

Please contact us if you have any questions.

Thank you for your partnership,

The Apple Store Affiliate Team
Apple now feels comfortable in allowing affiliates to directly promote and receive commissions on sales of the 2013 Mac Pro. Not a big deal?
Perhaps, but it's taken more than five months and, for what it's worth, the 2014 MacBook Air was commissionable right from the get go.
Look for a slight increase in 2013 Mac Pro happy talk from your favorite bloggers as they seek to earn a nickel or three. That is not a bad thing for two reasons: 1.) the new Mac Pros are seriously awesome products and 2.) bloggers' kids, like everyone else, gotta eat…
What's your take?