The Acer Predator 21X is the worlds most powerful & the most ridiculous gaming laptop. Acer Predator 21x comes with a 2-inch curved screen features 2560×1080 pixels resolution with NVIDIA G-SYNC to ensure smooth and incredible gameplay.
The Acer predator 21x is powered by Intel core i7 with latest 7TH generation processors with not 1 but with 2 NVIDIA GeForce GTX 1080 GPUs for super smooth high-end unmatched graphics performance.
The Laptop weighs 8KG heavy but worth it, with 4TB SSD and 64GB DDR4 RAM Woah that's a lot of memory and storage space for you to utilize. But ACER Predator 21X's battery life is kinda disappointment after a test of this beast the results were quite disappointing because this beast only stayed on for 1hour and 51 minutes.
Its important features also contain Tobii eye-tracking it is integrated into the laptop, it let you Aim through your eyes making it easier for gamers to play. This beast laptop has not 3 not 4 but 5 cooling fans to keep the temperature balanced. If we talk about its colorful attractive keyboard, the keyboard comes with Cherry MX switches & RGB lighting under each key is just awesome.
The Acer Predator 21x have so many interesting and unique features such as removable side panel that can convert into a trackpad to a number pad when needed. As far as the audio properties are concerned.
The Acer Predator 21x comes with a SoundPund 4.2+ (2 subwoofers and 4 speakers) Dolby Audio sound technology 3-way audio. This Beast laptop comes in a huge (Black solid tough looking SuitCase).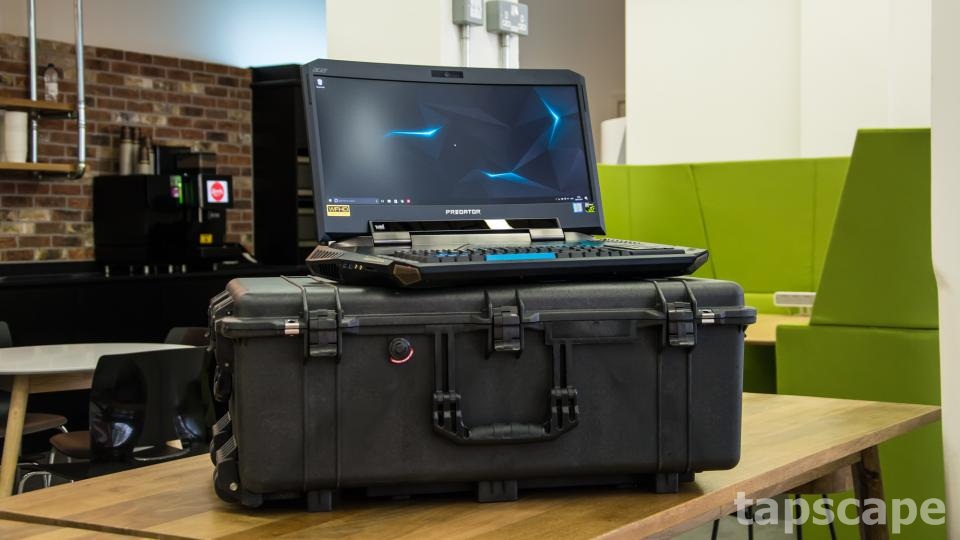 Key Specs
CPU: 2.90 GHz Intel Core i7-7820HK (quad-core, 8MB cache, up to 3.90GHz)
Graphics: 2 x Nvidia GTX 1080 (8GB GDDR5, SLI)
RAM: 64GB DDR4 (2400Hz)
Screen: 21-inch, FHD+ (2,560 x 1,080) IPS LED
Storage: 1TB HDD (SATA 3), 1TB SSD (2 x PCIe 512GB RAID 0)
Ports: 4 x USB 3.0, 5 x USB 2.0, DisplayPort, microphone/headphone jack, HDMI
Connectivity: Gigabit LAN, 802.11ac Wi-Fi
Camera: Built-in webcam
Weight: 18.74 pounds (8.5 kg)
Size: 22.4 x 12.4 x 3.3 inches (56.9 x 31.5 x 8.4 cm; W x D x H)
I'm a contributor on Tapscape that writes on the latest mobiles, computer games, and all other tech devices.