[googleplay url="http://play.google.com/store/apps/details?id=com.monstercode.advicefrom"]
Advice From the Gods is a very clean and easy to use app for iOS and Android that allows you to get answers to your questions from a number of different religious texts. The texts offered at the time of writing include The Bible, The Quran and The Veda. The app itself offers a nice clean user interface with which to search for answers to any questions you have.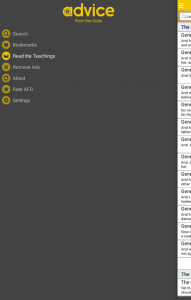 Using the Advice From the Gods app
The app itself is nothing overly complicated, and it doesn't have to be. Once you launch the app you are taken to a simplistic landing page with a search field. Here you can input your search terms which you would like to bring up passages from the different texts on offer.
The results are then presented in an easy to view format, allowing you to quickly scan over the relevant passages before reading further into them. This is a really nice way to deliver lots of information in an easy to digest manner. Once of the key strengths to this app, lies in it's simplicity.
Simple in theory and in practice
Advice From the Gods is a great app on both Android and the Apple ecosystem (iOS), not because of all the bells and whistles that it has but because of what it doesn't have. It's purpose is to allow you to easily search for answers, and this is what it performs excellently.
We did find better results when using short-tail search queries such as 'love' or 'hate' as opposed to 'how do I deal with annoying workmates' (an all too common question from my fellow co-workers about me). As long as you keep this in mind, your results will be very useful. Once you have found a relevant passage, you can highlight or bookmark this for later use.
High quality and polished user experience
The user experience of this app must be commended, it was simply a joy to use and it made it very easy for us to get what we wanted out of the app. Sadly this seems to be an often forgot staple of good app design, so I felt refreshed playing with this app.
From a personal level, I like the idea of faith being more important than any one god or deity, so being able to explore how other religions teach their disciples about how to deal with particular situations is very interesting and I'd love to see more sources added down the track.
All in all, this is a well thought out, design and executed app that I would definitely recommend for anyone looking to get more out of their faith, regardless of your preferred religious text. Advice From the Gods is available on Android versions 3.0 through the Google Play Store and also through the AppStore and requires iOS 7.1 or later