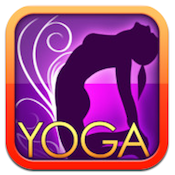 Price: $0.99 Score: 9/10 Category: Health & Fitness
Over 3 million yoga fans can't be wrong! Arawella Corporation's wonderful iPhone appAll-in YOGA: 300 Poses & Yoga Classes is a wonderful resource for beginner and advanced yoga disciples alike.
The name Arawella Corporation may be familiar to you if you're a regular reader of our reviews. Earlier this year, I had the pleasure to reviewing another one of their yoga apps:YOGA Free: 250 Poses & Yoga Classes.
In that review, I wrote that I loved the layout and the thoughtful design. In particular, "One of my favorite parts of YOGA Free is the Calendar feature. You can use this feature to track your workout durations, as well as which types of poses you did. There's also an inspiring quote at the bottom of the calendar which changes daily."
WhileAll-in YOGA: 300 Poses & Yoga Classescosts a dollar more thanYOGA Free: 250 Poses & Yoga Classes, the former is well worth the extra cost. One of the coolest features is the ability to look at muscle charts and diagrams. These charts use detailed graphics to show you just what muscle groups are being engaged in a given pose. It looks super cool, and it's very educational.
Another amazing thing is the live, in-app support. For such a low price, it's amazing that this app lets you get such great, personalized service to help take your yoga to the next level.
Yoga purists, don't despair. The focus is on poses, but there are also 30 essential breathing exercises outlined as well. This creates great synergy between body and breath, and really adds value to the app as a whole. Bottom line:All-in YOGA: 300 Poses & Yoga Classesis an iPhone app well worth your attention.
Want more yoga-tastic fun? Check out this great yoga music, or get some great ideas for how to best structure your yoga workouts from Yoga.com/Arawella Corporation.
All-in YOGA: 300 Poses & Yoga Classesis compatible with iPhone, iPod touch, and iPad. Requires iOS 4.3 or later.A small expedite fee was paid by the developer to speed up the publication of this iPhone app review.