[googleplay url="https://play.google.com/store/apps/details?id=com.rhs.anagram"]
With over 5000 puzzles consisting of 34 thousand unique words,Anagram Herois a challenging and highly addictive word based puzzle game which is capable of testing anybody's vocabulary.
Upon opening the app for the first time, Anagram Hero will ask you to log in. You can do this using your email address, or via Facebook. Both options will earn you coins called Sven Bucks, which you can use to buy words when facing a tough puzzle.
Once signed up, the game throws you straight into the puzzling action. Three separate game types are on offer. A Fixed Letter puzzle means a particular letter must be present in every word you uncover. Themed puzzles allow you to earn bonuses by finding words related to the given theme, whilst Super Word board types mean you need to discover a 7 letter long word, along with four other words.
The word puzzles are exciting and frantic, as each board requires a different strategy, whilst gradually becoming more and more challenging. The ticking timer also piles on the pressure.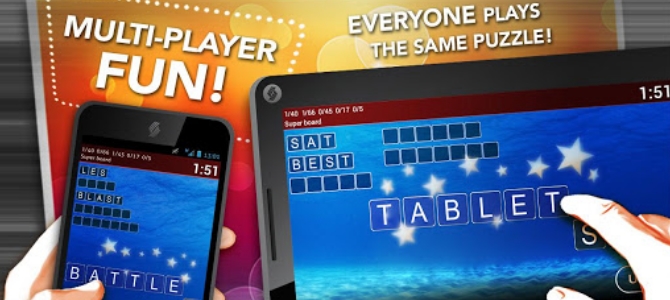 Word Wizardry Required
Anagram Hero allows you to compete against friends and family via Facebook, as well as the wider world through its in-game leader boards. As the levels get more difficult, you soon realise that some genuine word wizardry is required to truly become the best.
To assemble words, you can swipe or tap your chosen letters into position. Your goal is to find as many words as you possibly can in the time frame provided. The more words you find, the better your score will be. Longer words are also rewarded with more points.
For a price, you may also choose to play un-timed matches, which make for nice, relaxed games with less pressure.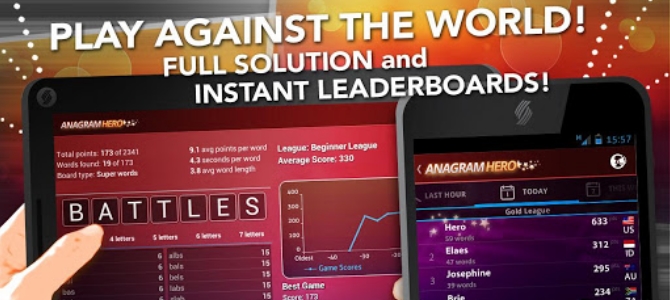 The interface of Anagram Hero is well polished and easy to navigate. The buttons are well placed, and everything looks as it should. However, opening Facebook inside the app can sometimes cause the game to freeze.
Anagram Hero adds a nice touch to each puzzle via randomly selected HD photographs making up the background. Natural mountains and wildlife images make for good viewing whilst you exercise your vocabulary.
The sound effects within the game play itself are satisfying, especially when things are going right. The ambiance created makes for both exciting and relaxed game play.
Final Remarks
To conclude, Anagram Hero is an extremely fun, and high addictive word puzzle game which can be played at almost any time. The quick, time-based puzzles are excitingly fast paced, whilst the infinite time game mode allows you to relax and enjoy the puzzles in a more leisurely manner.
Anagram Hero allows you to find and invite friends from Facebook to play against and compete with on the leader boards, and also includes a worldwide open message board, creating a nice, community feel.
Download Anagram Hero from Google Play free of charge Android devices running Android 2.2 and up.