We've seen the latest version of Android 4.3, which was shown off earlier in the year at Google I/O, already accidentally leaked on a Google Nexus 4 shown off at a recent conference, but up until now there has been no working ROM to use.
However, a working TWRP backup of Android 4.3 has appeared on XDA Developers which has allowed a system dump to be created, minus the radio and bootloader – meaning it isn't currently flashable. The build number JWR66N has been confirmed by the folks in the know at XDA Developers to be correct, and the real version of Android 4.3. What it does mean though is that it probably won't be too long until either a flashable ROM is created of Android 4.3 for the Nexus 4, or it is officially released by Google.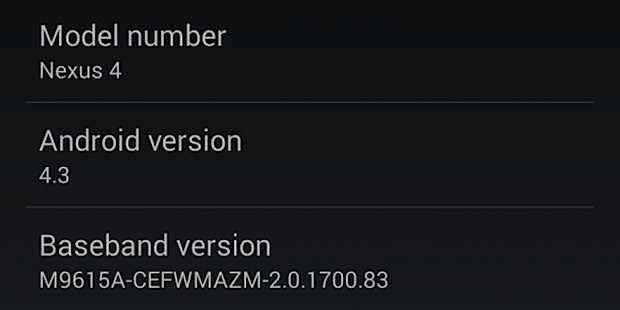 Android 4.3
Although the Android 4.3 isn't as significant update as people were expecting, and it certainly isn't Key Lime Pie, it does bring a variety of security and performance enhancements, together with some updates to the camera. Android 4.3 also introduces the Bluetooth Low Energy standard, OpenGL ES 3.0 support, new dialer options, an "always on" option for Wifi-based location services. There are also new several new options for developers, and a hidden "Notifications" area in the Settings app.
The most significant feature of Android 4.3 is something that isn't visual, and something that everyone will notice. A few users reported touch issues with previous versions of Android, so version 4.3 has introduced some improvements to the touch sensitivity, especially on the Nexus 4.
As mentioned, although the leak is not flashable, it does represent a small step into someone creating a ROM that will be functional on the Nexus 4, hopefully in the not too distant future, but until then we just have to wait for Google to officially release Android 4.3