In an effort to make the 5C more popular, Apple is reportedly going to introduce a cheaper 8GB version of the device. Instead of the $791 that the regular 16GB 5C has, this one would come in at $707. Considering that there are many Android phones available for only a couple hundred dollars, this price change is unlikely to make the 5C exponentially more popular but it could attract some buyers who would buy the phone at a subsidized price.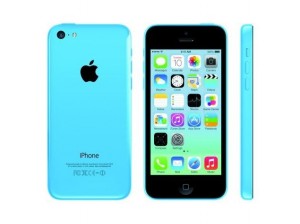 One of the sites perpetuating this rumor is the German site Caschys Blog, which says that it has seen a note sent out by carrier O2 stating that the 8GB iPhone 5C would be avaialable at $707 this week.
Other popular rumor sites have also backed up these reports stating that the phone is already arriving at some retail carrier stores and a photo was provided by Engadget which allegedly shows an 8GB 5C in blue.
The most current rumors say that the cheaper 5C will be available on Tuesday.
Apple has already acknowledged that the 5C is not nearly as popular as the high-end 5S that has taken the majority of the spotlight. Sales of the plastic and colorful 5C have been less than what the tech giant expected, though higher 5S sales have been able to balance things out so far.
Whether or not an $84 price drop is enough to actually boost sales is not clear, but it is unlikely considering the many other budget devices that are available in the crucial overseas markets.
A report from analytics firm Umeng recently backed up the lack of iPhone 5C use, showing that just 2 percent of mobile traffic was coming from the device, compared to a much larger 12 percent for the iPhone 5S and 15 percent for the iPhone 5.
It many not change prices or introduce new models as often as other companies but Apple has been known to do whatever is necessary in order to come out with better financial reports. Since the 8GB iPhone 5C will reportedly be released this week, we will know if the rumors are true as early as tomorrow.
Summary

: Apple is allegedly going to introduce an 8GB iPhone 5C this week. It will retail for $84 less than the 16GB 5C that has failed to become popular.

Image Credit: ndtv