The fate of the last true big iron product that carries Cupertino's bitten fruit logo has been an open question for more than a year. Last updated in August 2010, the Mac Pro has a small and dedicated user base that needs expansion slots and open drive bays powered by Intel's meatiest multi-core Xeon processors — is their wait finally over?
Yesterday, Tapscape repeated speculation that Apple's four of five Mac product line refresh wouldn't include a pro tower refresh.
Unsatisfied with unsupported and unsubstantiated guesswork, MacRumors took a rumor and worked the phones, more than a 100 separate calls, to confirmed its validity. Low and behold they discovered that, yes, Apple has been recalling unsold Mac Pro inventory from brick-n-mortar Apple Stores.
Further, store Specialists said that they wouldn't have Mac Pros available for in-store until June 12 or 13 — the day after Tim Cook's WWDC keynote address.
Adding weight to this and other whispers that a major Mac refresh is coming WWDC week is the rumor that Apple has asked store associates to make time for an overnight training/setup session on June 12.
Now even crunchier!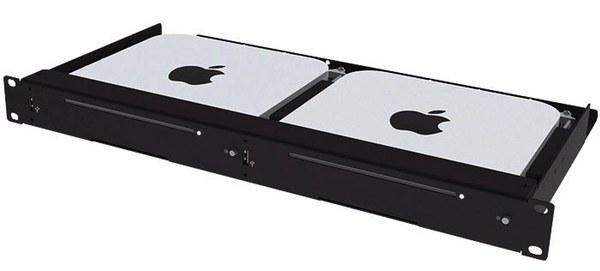 Sonnet's two-slot Mac mini rackable tray, one way to go modular.
For its part, 9 to 5 Mac now claims the Mac Pro will be offered in three stock configurations and feature an entirely new stackable/rackable design, offering more drive bays and, of course, Thunderbolt.
Seems like we will be getting new pro iron from Apple after all…
What's your take?