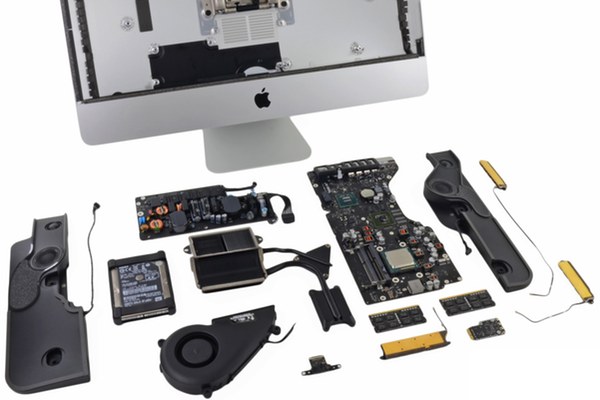 And, wouldn't this be a very pleasant surprise indeed and could explain, at least in part, why Apple increased the price of the 2012 iMacs by $100 across the aboard? Although it is possible, other explanations are much more likely. Whatever the case, at least a few lucky buyers have 2012 iMacs marked with the words, "Designed in California, Assembled in USA."
First off is a buyer report via the good offices of Fortune and Philip Elmer-DeWitt, who writes that a surprised Aaron Gong noticed that stock 21.5-inch iMac he purchased at an Apple Store bears the fateful words. However, DeWitt checked with a New York City neighbor only to discover that unit was pieced together in China.
That said, the 2012 iMac that iFixIt tore down and analyzed (image below) also carries the words "Assembled in USA."
2012 iMac: Reshored?
Although it would certainly be welcome news that Apple is once again assembling/manufacturing here in the land of milk and Honey Nut Cheerios, a more likely explanation is that the company is test manufacturing the new all-in-one desktop in the US.
In fact, as noted by the news hounds at 9 to 5 Mac, previous generation iMacs also arrived in buyer hands marked "Assembled in USA." Though no one knows sure why (because Apple certainly won't say), it is speculated that Apple builds a limited number of early production run iMacs to work out manufacturing kinks before handing off assembly to Foxconn in China.
Would you be more likely to buy a new iMac, or any Apple product, if it was assembled/manufactured in the USA?

image via iFixIt