Price: $0.99 Score: 9/10 Category: Games
Want to answer the eternal question of your intelligence once and for all? Download Stupidness 2 PRO and expect to fall slave to the game until it delivers its final declaration of your intelligence quotient.
The high velocity quiz and riddle game starts with a few nonthreatening questions as a red timer slowly ticks away on the top of the screen, but as you advance time ticks faster with more demands. What starts as a simple tap the numbers from lowest to highest trick question quickly accelerates into exact change riddles and then keeps rapid firing creative questions from there.
Before you know it you're twirling your phone every which way so you can take a picture of a monkey and all that matters is hitting the next checkpoint before time runs out so your IQ doesn't take a hit. This is the beauty of Stupidness 2 PRO. The simple and straightforward interface lets you focus on the task at hand, and not every task is the same.
Stupidness 2 PRO takes advantage of a diverse iPhone feature set that moves past multitouch gesture recognition into the kinds of riddles that can only be answered when your phone is positioned in a certain way.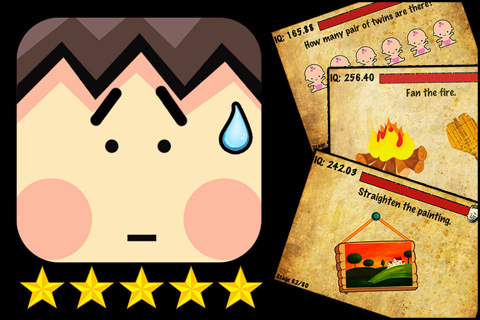 Basic hints pop up in the right hand corner for those who have tried and failed as the clock ticks down, but cheaters who rely on the hint crutch will receive a deduction of 15 IQ points in their final score. Whatever the case, the main focus is hitting the next checkpoint to receive an updated IQ before jumping right into the next set of mind benders designed to separate the inteligencia from the dunces.
The clever riddles fire at just the right pace to keep players hooked and the option to share IQ updates at each checkpoint on Facebook is appropriate, but the game overall seems awfully short. It takes about 20 minutes to master the entire question spread and any chance at replaying the game just means the same game over again, but for a quick thrill, Stupidity 2 PRO might be one of the finer quiz games to hit the app store.
Aren't sure about the purchase? Try out the one time sample version. It only contains 1/10th of the main game's content and doesn't let you replay the game like it would with the normal version, but it's at least enough to give you a feel of the influx of questions you might receive.
Bottom Line: Stupidness 2 PRO is a clever