Autoresponder is one of the reasons to Jailbreak, the popular tweak allows an auto-reply to be set up for text messages when you're not available, busy, or simply don't want to respond yourself, sending a pre-defined text message at the push of a button. Autoresponder 2 is now released, bringing with it support for iOS 6, and it is 50% off for a limited time only.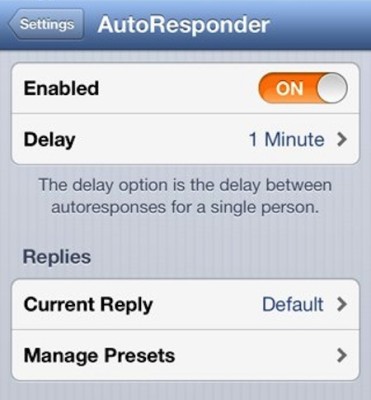 It's available in Cydia right now, and upon paying the $1.50 (discounted from the usual $2.99) price, head into settings to find the Autoresponder 2 preferences and configurable options. Once it's enabled, incoming messages will be responded to with the designated reply of your choosing.
Both the preset and default reply options are configurable, so you could include specific replies such as "I'm at work", or something a bit more generic and vague like "I'm busy".
Autoresponder 2 is compatible with both text message and iMessage, and can be simply enabled and disabled in the settings app as mentioned, so you'll not find any icon for it on your homescreen.
In addition to iOS 6 support, Autoresponder 2 brings a new feature to whitelist contacts, enabling you to disable the auto-reply feature for certain contacts you don't want to receive the default reply message. The timer is also now more configurable, and can now wait between 1 minute and 2 hours between responses.
Autoresponder 2 is a great solution for anyone with the need to auto-reply to messages. The pricetag sits currently at $1.99 for a limited time only, so if Autoresponder 2 sounds like something you're interested in, don't hesitate and head to Cydia to download now.