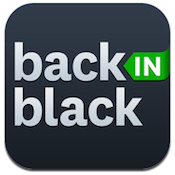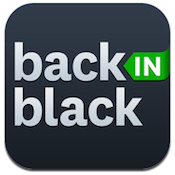 Price: $3.99 Score: 9.5/10 Category: Finance
Personal finance apps are a dime a dozen, and I've spent dozens of dimes trying out each and every one of them. Name a personal finance app, and I'm sure I've tried it.
But the problem is that I can never seem to keep using the app on a regular basis. Whether it's an issue of poor design or just a bare bones app with too little frills to be useful, I just can't find one I like…and my bank account hurts for it.
Back in Black, developed by Fission Media Group, may just change all that. It's the first personal finance app that I've fallen head over heels in love with. Using this beautiful app is a joy, and I actually look forward to entering in my spending and saving information.
Like any good personal finance app, Back in Black serves up your personal info at a glance in pie chart form. This is one of the better pie charts I've seen, but the charts and bar graph visualizations aren't what sold me.
Actually, I'm having a tough time putting my feelings into words. The best part of Back in Black is the overall flow and design– in a word, it's perfect. With other finance apps, I've had to keep my wits about me, and it's just too much effort to make sure I put things in the right place.
But there's something indefinable about Back in Black's design that takes all the hassle and guesswork of out tracking how I spend my money. It's intuitive, clean, and simple. I couldn't be happier.
Back in Black is already the top-selling personal finance in Canada, and gaining ground elsewhere. Based on how immensely satisfied I was with my trial run with Back in Black, I'm sure it's poised to gain some serious market share and adoration in the United States.
Back in Blackis compatible with iPhone, iPod touch, and iPad. Requires iOS 4.0 or later.