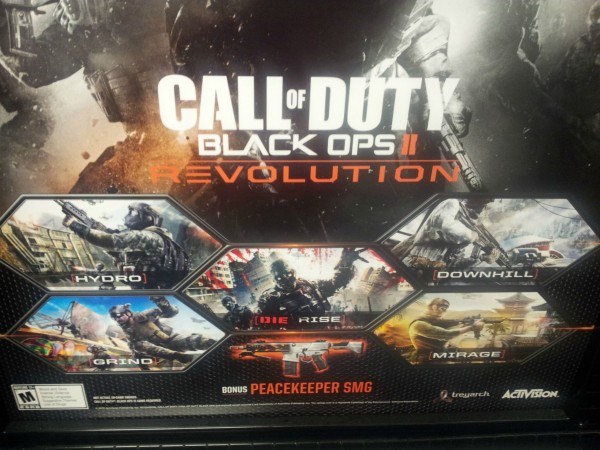 Despite having a shaky start, Black Ops 2 has proven that the Call of Duty franchise is still an entertainment force to be reckoned with, grossing $1 billion dollars in a record-breaking 15 days. And while gamers everywhere seem happy, Call of Duty won't be Call of Duty without downloadable map packs. However, up to this point, there hasn't been any definitive word on when we'll be seeing our first map DLC for Black Ops 2.
That changes today as details for Black Ops 2's first expansion emerge online.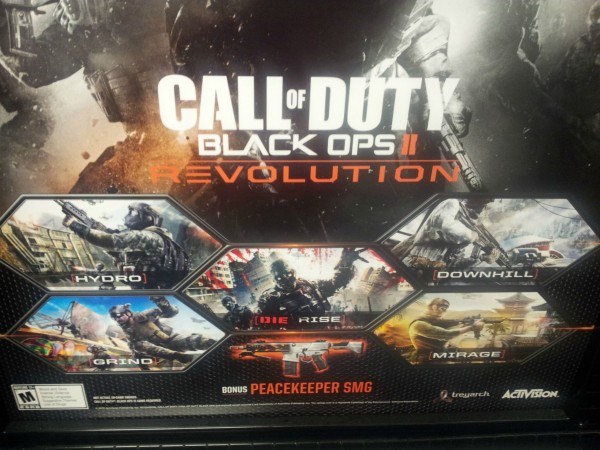 According to reports, we can expect the Black Ops 2 DLC to hit on Jan. 29, beginning with the Xbox 360. The DLC will be called Revolution and based on the image that's been circulating around the internet, it looks like we can expect 5 new multiplayer maps — Hydro, Grind, Downhill, Mirage, and a zombie-themed addition called Die Rise. What's more, players who download the DLC will be getting a new addition to their arsenal — the Peacekeeper SMG. How awesome is that?
Gamerant notes that while details regarding about the DLC aren't clear as of the moment, Infinity Ward and Treyarch have both pointed at "balancing and technical hurdles as an explanation for a lack of additional weapons once their respective games had shipped." As to how this impacts the Peacekeeper SMG is something that's up in the air at the moment. We'll all just have to wait and see.
Are you excited for the latest Black Ops 2 DLC? Which of these maps do you think you and your friends would have the most fun with? Share your thoughts in the comments below!