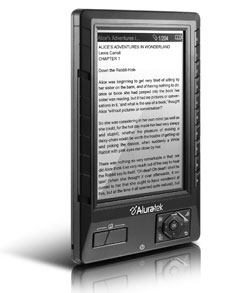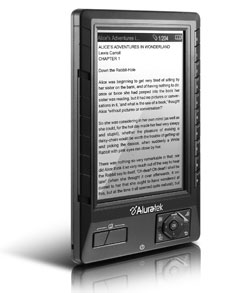 Last month Borders announced the release of the $149 Kobo e-reader that will go head-to-head with the Amazon Kindle and the Barnes & Noble Nook. Cementing their strategy of remaining device neutral, Borders have today introduced a new partner, and a new e-reader that will go on sale in stores from early July.
Aluratek, the manufacturers of the Libre eBook Reader, are the first addition to a number of planned third party partnerships. Rather than being focused on hardware, Borders is hoping to launch their own e-book store this month across a wide number of platforms.
"Borders eBooks won't tie you to one particular device. Buy an eBook at Borders.com or through our apps and download it instantly to your choice of devices—popular smartphones, eReaders, or your PC."
The Libre will be priced at $119.99 and features a 2GB SD card and support for PDF, RTF and ePub file formats. The eBook Reader utilizes a passive LCD screen rather than eInk and has a battery capable of 24 hours of continuous use.
According to Borders, both the Kobo eReader and the Libre eBook Reader will be available on July 2.