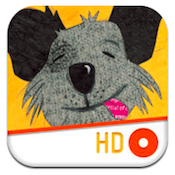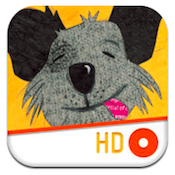 Price: $3.99 Score: 10/10 Category: Books
Is there anything Bernadette Peters can't do? She's recorded six solo albums, starred in numerous broadway shows, performed in critically acclaimed films, and now, her beloved book Broadway Barks has been turned intoBroadwayBarksthe app, developed by CJ Educations.
A bit of background: Peters wrote this children's book to support the real-life Broadway Barks charity organization, which promotes the adoption of dogs from shelters and was founded by her in 1999. She wrote the book, while artist Liz Murphy provided the illustrations.
The book originally came out in 2008, and is now available for the iPad. Why buy the iPad version? Well, in addition to being cheaper than the book by several dollars, the iPad version features interactive animations, as well as some audio fun. The physical book includes a CD, but the BroadwayBarks offers a more seamless listening experience.
Included in the app are two musical features: 1) Douglas' Showtime, where you create a musical showtime for Douglas the dog so that he can impress the audience with unique songs and dances, and 2) Kramer's Song, a beautiful lullaby music with music and lyrics by Bernadette Peters.
The story itself is totally sweet and heart-warming. It's really got pretty much everything you need in a kid's story: pathos, adventure, a life lesson, and of course, a very happy, sweet ending.
The story in BroadwayBarks revolves around a homeless dog named Douglas, who meets a Broadway star in the park. She fosters him, and introduces him on a Broadway stage so that he has a chance at being adopted by a good family.
You can read the story to your kids, set up Auto Play (where the pages turn themselves), or have Bernadette Peters herself read the story to your children. Her narration is so typically her: big, bombastic, and totally sweet.
BroadwayBarks is recommended for kids between ages 2-8, due to interesting vocab and the unique appeal that cuddly animals have on that age group. All in all, if you're in need of a new iPad book to share with your kids, BroadwayBarks is a perfect choice.
BroadwayBarksis compatible with iPad. Requires iOS 3.2 or later.