[googleplay url="https://play.google.com/store/apps/details?id=com.camcloud.android&hl=en"]
Camcloudis an online service that allows you to set-up and monitor cameras around your home or business quickly and easily. Now, the whole process is even more convenient, thanks to the official release ofCamcloud for Android.
Using the Camcloud for Android app, you can connect directly to the cameras you have set-up and get live updates, as well as instantly playback videos which have been saved on the cloud.
In order to start using the app, you must first head over to the Camcloud website and sign up for an account. You can then use the same login details within the Android app.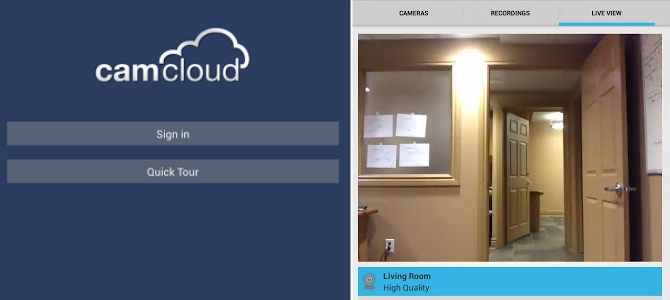 Never Miss a Second
Once you have set up your cameras using the CamCcloud website, you will be able to access them directly from the Camcloud android app as soon as you log in to your account.
Each of your cameras will be displayed in a list under "Cameras", allowing you to view quality settings, sensitivity, and so on. By swiping the screen left, your recordings will be presented to you. Camcloud begins recording video upon detecting motion, so any unusual activity when you're out of the house or office can be monitored.
Swiping left once again will bring you to the "Live View" screen, which, as the name suggests, allows you to monitor your cameras live – right from your Android device. The app even sends motion alerts which notify you of any activity across your camera set-ups.
CamCloud Design and Features
Camcloud's interface and menu system is easy to navigate, and has a clean, crisp design which is exactly what you need to a serious camera monitoring system. There are no tricky menus or out-of-place buttons to get confused by.
The ability to easily switch between live monitoring, captured video and camera overviews is excellent. A simple swipe of the finger allows you to skip through the well presented options.
The simplicity of the Camcloud Android app is what makes it such a joy to use. Once you cameras are set up via their website, there is almost no reason to return thank to their powerfully capable, yet light weight app.
Final Remarks
To conclude, Camcloud's features are easy to understand, and even easier to use. Monitoring cameras from across the city, or even across the world is now at your fingertips.
Keeping tabs on pets, employees, homes and businesses is now easier than ever before, thanks to a quick set-up process and easy access at any time, anywhere in the world.
Download Camcloud from Google Playfree of charge on Android devices running Android 4.1 and up.