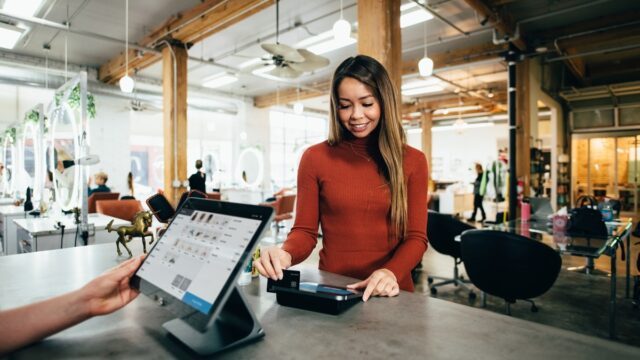 Payment processors are third-party companies commissioned by other companies to process any credit or debit card payments from their customers. A payment processor gives these companies the ability to have a convenient and readily available payment system. This enables existing and potential customers to quickly pay for purchases.
As we know, continuous cash flow is literally the lifeblood of any business. During the past decade or so, companies have started to take note and realize the importance of having a reliable payment processing partner. A good payment processing company must have many payment processing options, so you need to check the payment processors' four payment channels.
Point of Sale Systems
A point of sale system or POS consists of software and hardware that process and track payment and sales at the time of purchase. A point of sale system is commonly used by payment processing companies and placed in strategic locations to maximize sales. The primary purpose of a point of sale system is to make your business easier to manage.
Modern point of sale systems are not limited to only payment processing. These systems can also provide real-time data. Business owners can observe trends and valuable data to further enhance the business. POS systems can also aid in your workforce management. This includes managing your inventory, staff, and employees under your payroll and also your customers. With all these functions, business owners can make smart business decisions.
When choosing a payment processing company, it is vital to check the point of sale system that they have. The system must be able to manage your inventory efficiently. It must also be time-efficient and easy to use. For on the go business owners, a good point of sale system must also be easy to access and able to provide accurate and real-time data.
Mobile Payments
People nowadays are on their phones almost all the time. No one leaves their homes without their mobile phones. People have been slowly but surely embracing mobile payment options with steady advancements in technology. Especially now, during the pandemic, mobile phone payment options are almost a must when making purchases.
As the name suggests, mobile phone payments are a network of regulated transactions that take place through your mobile phone. So, instead of paying via cheques, cash, and presenting your credit card, you can process payments in the palm of your hands. Modern mobile payment options also offer added security features to avoid fraudulent activities.
If you are looking for an excellent mobile payment option, they must first and foremost be convenient. In America alone, studies show that 81% of the population are mobile phone owners. As people use their mobile phones for communication and current events or for other simple tasks, adding a mobile payment option makes it easier for the client to maximize their devices.
MOTO Payments
MOTO payments or mail order/telephone order payments are often called the old school method of making a payment. With people making the transition to mobile payments, one might think that MOTO payments are obsolete. Well, that is not the case. In fact, mail order or telephone order payments are here to stay.
A good business must be able to cater to all their customers regardless if they have internet access or not. Mail order or telephone order enables companies to process payments via letter, emails, and telephone calls. This type of payment processing is perfect for customers who are not tech-savvy or are just not fond of using their mobile phones to make a payment.
To maximize a company's cash flow, it is essential to use both mobile payment options and mail order/telephone order payments. Some customers like human interaction and a more personal contact with the seller, make MOTO payments essential to any business. MOTO payments are perfect for travel and accommodation service providers.
Online Checkout Solutions
Simply put, online checkout solutions means that you process payments using your laptop or desktop. This is very beneficial nowadays during the global pandemic. With young individuals being in work from home setting, the working class needs to be able to make purchases and payments through your web browser.
Processing payments through a web browser must be convenient and easy to use. Being user friendly is a must for an online checkout solution to successfully keep customers and attract potential customers.
Though making online payments are easy and convenient, it also needs to be safe. Paying through a web browser must have security features that can be used by the customer to protect his personal account data. Having security features is a vital element for any business to flourish as a lot of hackers are in the prowl for easy victims.
Takeaway
Let's face it; having a payment processing affiliate is essential for a company to grow. It makes a company more comfortable to manage, and it also relieves you of the added stress if you manually do the task of payment taking. Not only does it provide customers with alternative payment options, but it also helps you keep optimum customer satisfaction.