[googleplay url="https://play.google.com/store/apps/details?id=com.challengio"]
Challengio is a unique, social photo sharing game, which allows you to attempt entertaining challenges set between you and a friend, or random player.
Once you have signed up to Challengio with your nickname, email and optional profile picture, the app throws you straight into the action.
You may immediately choose to invite friends to join you, or play a game against a randomly selected payer, who could be anywhere in the world – which only adds to the excitement of Challengio.
To begin, you simply select the type of challenge you wish to undertake. Categories vary from body parts to daily activities. Challengio will then challenge you to snap a picture of something specific.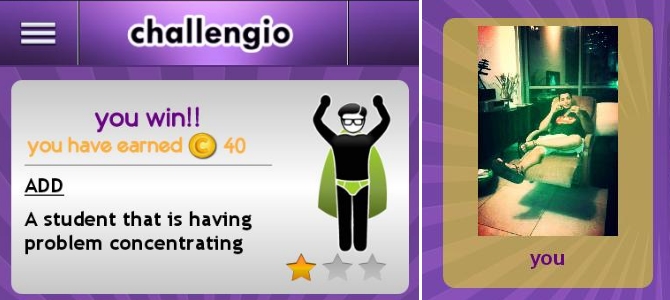 Snap Challenge
Your goal is to compete with your friends or randomly selected opponent, in order to snap the best picture in relation to the challenge. The community of Challengio will then decide the winner by voting on each image. Once the vote has been decided, the winner will receive coins as reward.
The whacky challenges set by Challengio give the app a unique entertainment factor, thanks to each challenge being as tricky and exciting as the last.
Challengio connects you to random opponents extremely fast, and also allows you to invite friends from Facebook, along with contacts from your email address. You can also challenge numerous people at once, so the fun never has to stop.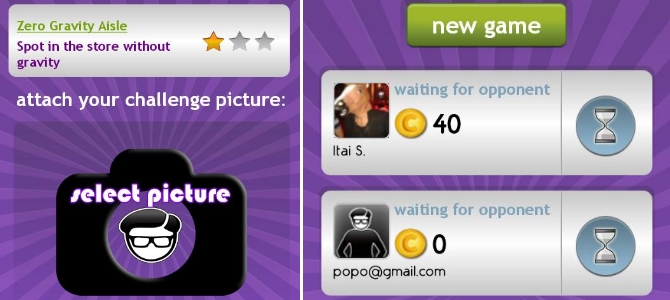 The interface of Challengio is very well polished. All buttons and functions of the app work well, and the menus are well designed. The responsiveness and polish of Challengio makes it a pleasure to use.
Taking photos with the app is equally as easy and responsive. Once the image is taken, you can edit it using some of Challengio's editing tools – in order to spruce up your images for the challenge. Adding some extra personality to your images will also surely win you match winning votes.
Although Challengio offers users a great deal of fun, finding players to play with can sometimes be tiresome. The app sometimes finds random players immediately, yet at other times – never at all.
Final Remarks
Overall, Challengio does a great job of combining social photo sharing with uniquely fun picture based challenges.
The app allows you to find and invite friends from Facebook and email contacts, making it extremely easy to socialise with photo based challenges with close friends and family – as well as complete strangers.
Download Space Sports from Google Play free of charge Android devices running Android 2.2 and up.