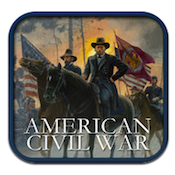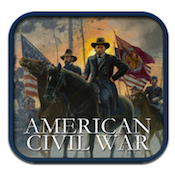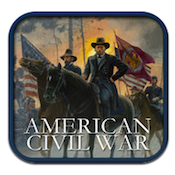 Price: $4.99     Score: 9/10     Category: Education
Civil War Interactive is an iPad app developed by Touchzing Media. Whether you're a student, an educator, or just an history-loving adult, Civil War Interactive is a great tool for understanding our nation's bloodiest conflict.
Learning about the Civil War from a dry old book just won't cut it these days. Civil War Interactive is far more engaging, especially for students who have a hard time getting excited about history. You can expect a truly complete interactive experience, rife with photos, audio files, paintings, sketches, timelines, and all kinds of media that really make the people from this time period come alive.
One of the best features is the ability to listen to Abraham Lincoln's speeches (obviously, not read by Abe himself.) They really are some of the most moving, well-crafted speeches written in all of history, and hearing them will help young students learn why Abe was one of our greatest presidents. There's also an audio summary of the war, as well as 3 battle songs.
Other media included in this app include 750 images from the period, as well as 6 interactive timelines for the events leading to the war and in detail for every month of the war from 1861-1865. Easy to navigate, with a robust index that makes it simple to find anything you need to research, this app would make a great supplementary resource for student research papers or final projects.
As a huge history buff myself, I can say that this is one of the best history education apps I've encountered for the iPad. If you have a kid who's struggling in school, or who really wants to delve deeper into American History, this tool is a must-try.
Civil War Interactive is compatible with iPad. Requires iOS 3.2 or later.