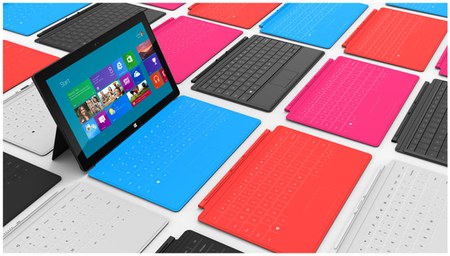 Redmond grabbed and held the tech world's attention with a flourish of Applesque secrecy and panache. Nevertheless, it is difficult to imagine how the product announced today and shipping someday will make Microsoft a player in the red hot mobile computing space.
Yes, Microsoft's Surface is a 10.6-inch convertible tablet or notebook crossover if you prefer. An Intel Ivy Bridge-powered version will run the company's largely pooh-poohed by the press and public Windows 8 Metro operating system and an ARM-based variant will deploy with Windows RT.
The one bullet point that pricked up my ears was the RT model's 1.5lbs weight and 9.3mm thin, which is really, really thin. Redmond is relying on a Magnesium alloy case, which isn't a new technology per se and one has to assume they've got a new wrinkle.
"The tablet weighs just a smidgen less than Apple's iPad and is slightly slimmer, but it feels much more rugged," writes CNN's David Goldman. "The Surface's magnesium case is light but incredibly sturdy — I felt like I could drop it off a table without causing much damage, but I didn't think Microsoft would take kindly to an attempt to find out."
Of course, the Ivy Bridge iteration will be thicker and heavier.
Otherwise, both versions have a kickstand and the detachable keyboard is something of a hybrid between a real and virtual, touch-only keyboard and, as you can see in the image above, it comes in several seriously fugly colors, though surprisingly not brown.
Microsoft's space shot
A place none have gone before. Apple currently owns the tablet and ultrabook markets with products that lead not only in terms of features and ecosystem, but also price. For what it's worth, Microsoft Surface is neither a tablet nor ultrabook vis-a-vis hardware and the software hasn't been well received.
Give Microsoft props for going bold and delivering an own branded product that is different. Nevertheless, it is really difficult to imagine how Surface will change Microsoft's, let alone Nokia or HTC's flagging mobile fortunes at this late, late date…
What's your take?
via The Verge