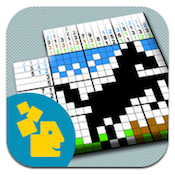 Price: Free Score: 8/10 Category: Games
Conceptis Pic-a-Pix, developed by Conceptis Ltd., is a great little app that offers a range of totally addictive pixel puzzles. While it does suffer from some slightly awkward, confusing controls, this puzzler is still worth trying out.
Conceptis has a huge array of puzzle titles, including sudoku, Link-a-Pix (picture logic puzzles), and Fill-a-Pix (the original Conceptis puzzle type.) However, the amount of free puzzles that come with Conceptis Pic-a-Pix is somewhat disappointing: while there are plenty of puzzles you can purchase, it would be nice if there were a few more advanced puzzles to help get players fully hooked to the gameplay.
Conceptis Pic-a-Pix comes with 42 free Pic-a-Pix puzzle samples in B&W and color. If you play on your iPad, you also get 8 bonus puzzles. However, user reviews suggest that Conceptis could be doing a lot better when it comes to releasing updates with fresh content to keep puzzle fiends satiated.
That being said, the puzzles in Conceptis Pic-a-Pix are highly addictive. Each puzzle consists of a blank grid with clues on the left of every row and on the top of every column. Your goal: reveal the hidden picture by painting each block using the clues to guide you. It's tricky stuff, but gets easier the more you play.
If you want to install an app on your Apple device that will sharpen your logic and cognitive skills, a Conceptis puzzle is a good bet. As the developers are quick to point out on the App Store page for Conceptis Pic-a-Pix, "more than 20 million Conceptis puzzles are solved each day in newspapers and magazines, online and on mobile platforms across the world."
Bottom line: if you're burned out on sudoku or other logic puzzles, Conceptis Pic-a-Pix for iPhone is worth a look, despite some relatively minor flaws.
Conceptis Pic-a-Pixis compatible with iPhone, iPod touch, and iPad. Requires iOS 4.0 or later.