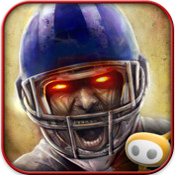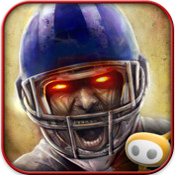 Price: Free    Score: 9/10    Category: Games
From the developers of the original Contract Killer sniper simulation game, Glu Games brings us the next installation in the genre.
Starving zombies are running amok through a post-apocalyptic city, and they aren't looking for Twinkies. Contract Killer: Zombies puts you in control of a grizzled, wheel chair bound veteran known as Shooter. Together with a fellow survivor named Evelyn you work to rescue other survivors, gather necessary supplies, and airlift them to safety before you all become zombie food.
If you are unfamiliar with the previous Contract Killer title, the controls are very intuitive. A short tutorial familiarizes you with your weaponry, how to zoom in to increase accuracy, reloading your weapon and switching between different guns. Once you have a gun selected, swipe your finger across the screen to find a target, and tap the fire bottom at the bottom right to start throwing lead.
The game progresses in a series of short missions. Each has a clearly defined goal, and will give you an overview of what rewards you can expect to earn (experience points and money) by completing that mission. As you gain more experience, more weapons, items and enhancements are opened to you, which you purchase with money from your missions. Eventually, you are able to add grenades and enhancements to the shotgun and pistol you start the game with.
Like many other games, Contract Killer: Zombies features micro-transactions; that is, the ability to pay real world currency to purchase items in the game. Some items in the Contract Killer: Zombies store are only obtainable through purchase with gold, and the only way to obtain gold is to buy it outright.
The items bought with gold are much more powerful than the weapons and items you would buy using the money generated by completing missions, but it is not necessary to rely on the special purchases to be successful in the game. However, the price of the regular guns does seem rather expensive, and you might find yourself having to save mission reward money for quite some time before you can upgrade that shotgun.
The game runs well on both the iPad 2 and iPhone 4S. Owing to the larger screen resolution, the game was simpler to play on the iPad, but the smaller iPhone screen does not detract from the game play. Though the artwork is both gritty and gory, the graphics and video display render very smoothly, and the background music is both subtle and haunting.
Overall, this game has appeal to novice and expert sniper shooters alike. A leaderboard keeps track of statistics for those interested in competing with their friends. The game also offers a loose plot arc, and the chance to shoot zombies. A lot of zombies. Oh, and it's free. What's not to love?
Contract Killer: Zombies (iTunes Link) is available from the iTunes store for iPod Touch, iPhone, and iPad.