[googleplay url="https://play.google.com/store/apps/details?id=com.cryptgram.main&feature=nav_result#?t=W251bGwsMSwyLDNd"]
Cryptgramis a fun, private picture editing and sharing app. It's innovative sharing options put a unique and entertaining spin on image based social media.
Photo sharing on Cryptgram offers some interesting and handy features, including complete control over which friends see you images, for how long, and also whether or not they are allowed to share your pictures with their social circle.
Another unique feature allows you to 'lock' your images, which lets you blur your photos to keep them restricted to a preview. In order for your friends to view the image, they can either pay you with in-app credits – if you so choose, or by simply 'unlocking' the image each time they want to view it.
Cryptgram allocates 200 credits to your account after you signup. Additionally, you can to earn more credits from your friends, as well as via daily log in bonuses.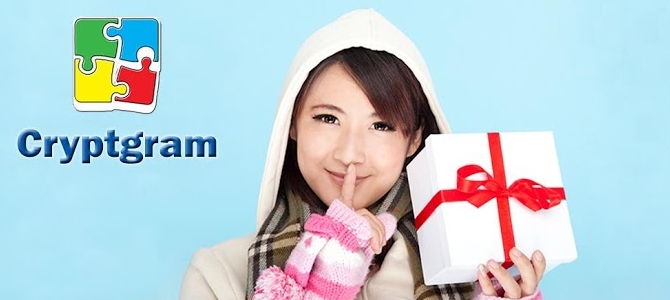 To spruce up your images, Cryptgram gives you the option to edit your photos before you share them with your friends and family. Editing options allow you use a brush tool with a huge array of colours. Small notes, edits and images can then be added accordingly. Additionally, you can add a small text caption to each image.
You can then decide on locking your image, adding a time limit, and the amount of credits needed to unlock the picture.
Once you get a few friends to join you, it's an absolute blast to take interesting pictures, only to blur them out in order to lure your friends into spending their credits.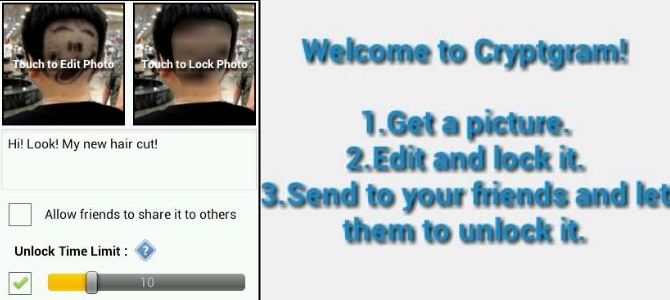 Once you create, edit and unlock pictures, you'll be able to save them in your Gallery, so you can view them and re-share them whenever you like.
The user interface is rather bland, and a few grammatical errors can be found scattered about, but in general, Cryptgram works well and offers you some cool, innovative photo sharing options which cannot be found in any other app.
Overall, Cryptgram offered something different, and that is certainly commendable. The features are fun to use, and sharing with your friends is very easy. The interface lacks polish, but it certainly does it's job.
Cryptgram is available on the Google Play store, working on all Android devices running Android OS 2.2 and up.