If you're sick of the standard Apple keyboard because of its lack of feedback, you're not alone.  The guys at Das Keyboard have recently launched their line of IBM style keyboards for Mac OS X. These keyboards provides tactile feedback as well as a few other cool features which I've covered below.
To start, the definite high point of the Das Keyboard is the tactile feedback it provides when a key is pressed. This happens because easy key is controlled by its own switch, just like old IBM keyboards, giving it a unique feel when pressed. Because of this tactile feedback, I'm able to type faster than ever before.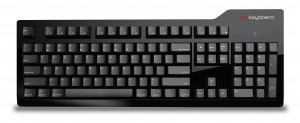 The Das Keyboard also features two USB ports on the righthand side of the keyboard. These USB ports can charge your iPad, iPhone or a plethora of other iOS devices. Because of this, the Das Keyboard requires two USB ports on your Mac, one for power and one for the built-in USB hub.
The only downside to this keyboard? It's wired. Currently, there is no wireless variant of the Das Keyboard and we're not sure if one is coming.
I'm personally a huge fan of the Das Keyboard for Mac. I can type extremely fast with this keyboard and love the built-in numerical keypad. It's also nice that the Das Keyboard has all standard OS X keys, making it an easy switch from a standard Apple keyboard.
Disclosure: Das Keyboard kindly sent out this review unit free of charge.