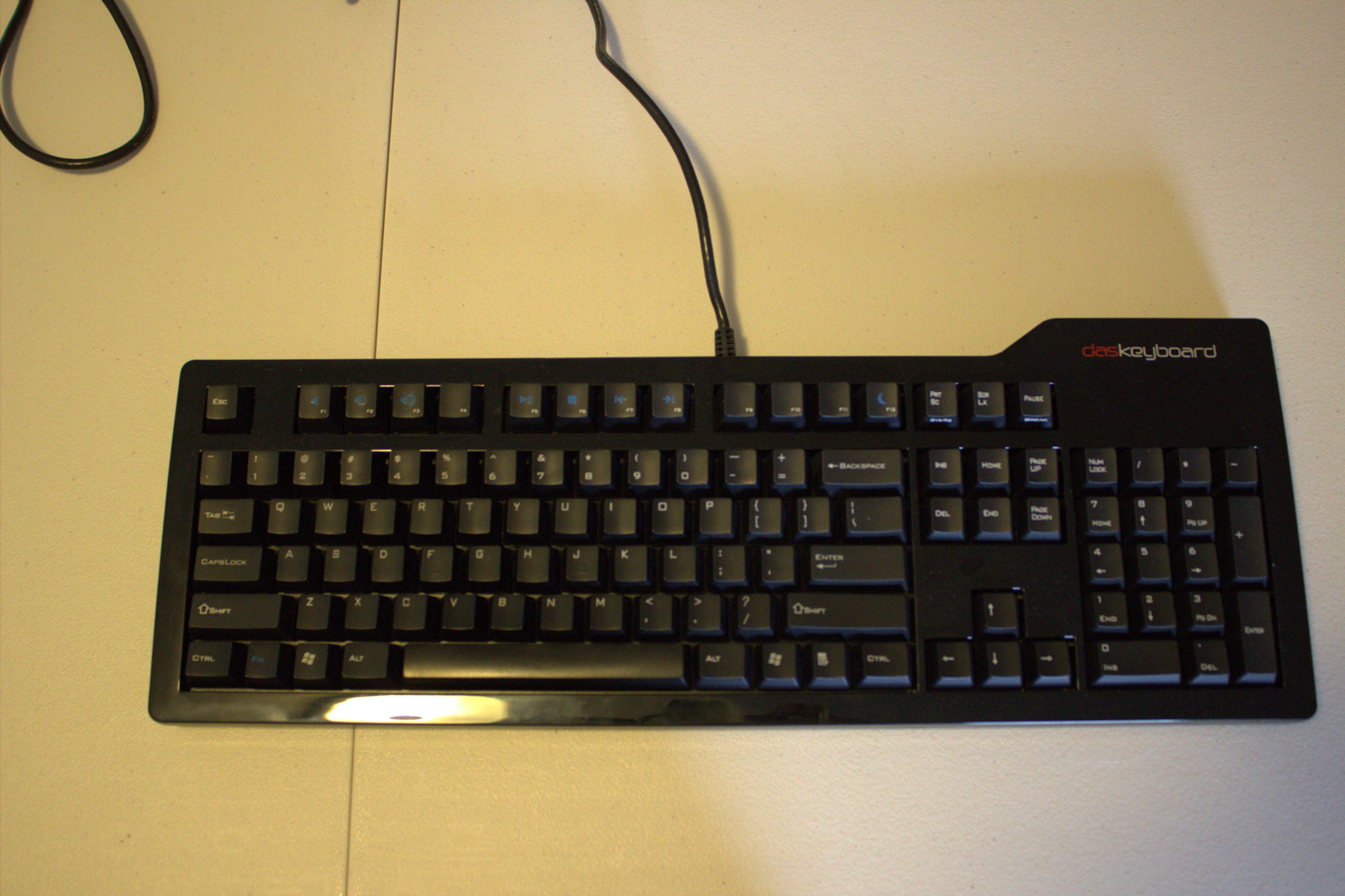 Even though Das has always been known for their very loud mechanical keyboards, they are turning down the clicks with the new Model S Professional Quiet.  This keyboard is an extension of the Model S line which has been around for multiple years but has finally received a quieter addition.
Design
The Das Model S Professional Quiet is fairly small just like their other keyboards and only comes with 104 keys, which includes a number pad.  While the keyboard might not be as compact as something like the G6v2, it is still small when compared to other keyboards such as the G19S which provides tons of extra programmable keys.
One of the really nice things about the Model S is that it does include two USB 2.0 ports on the right side which is uncommon on smaller keyboards.  Everything is spaced nicely and it is quite standard when it comes to the core design, the only standout difference from other keyboards is that the Model S includes an extended section which displays the Das logo.
The keyboard does collect a bit of dust and fingerprints on the glossy areas next to the keys (as you can see in the pictures) so don't plan on keeping the Model S clean for very long.
Features
Compared to some of the other keyboards that we have reviewed in the past, the Das Model S does not include tons of features and without any software there is very little that you can do to the keyboard.  There are some included media controls on the top row of keys, and of course, this Model S used red key switches to avoid too much clicking.
One of the other really nice features include on the Model S is N-key rollover which allows for all key-presses to be recorded.  Remember, you do need to use the included PS2 adapter in order to use N-key rollover!  Personally I have never really experienced any use scenarios where N-key rollover was used but many gamers and typists that I know swear by the feature, so it is nice that Das included it.
Price
It seems slightly surprising that Das decided to price the Model S Professional Quiet at $149 since it does not offer any unique or defining features.  Compared to other keyboards like the G6v2 ($100) and the Ducky DK2108 ($90), the Model S does seem slightly overpriced.
Das Model S Professional Quiet: Final Thoughts
Despite not having any special features that set it definitively apart from other keyboards, the Model S Quiet from Das does offer a great typing experience without the extra click sound.  If you prefer having a quieter keyboard but still want to have all the benefits of a mechanical keyboard, then the Model S Professional Quiet is a great compromise.
Originally Appeared On: TGBuzz